UK's Guardian Cites Prof. Jeff McCall '76 in Article on Oprah Winfrey's Impact
May 19, 2011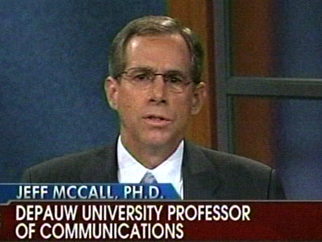 May 19, 2011, Greencastle, Ind. — The end of Oprah Winfrey's daily television program "will bring down the curtain on a phenomenon that has dominated the U.S. popular cultural landscape for nearly 25 years," writes Paul Harris in the UK's Guardian. "It will leave a chasm in the TV schedules, and a vast audience up for grabs."
The article quotes Jeff McCall, professor of communication at DePauw, who tells the British newspaper, "It is going to be very hard to replace her. She was so unique and her approach and her background was so unique. She could reach across demographic and racial boundaries."
Harris adds, "That enormous reach gave Oprah tremendous power. Her talk show became the heart of a business empire that grew to include her magazine, a radio station and a production company and became responsible for a good chunk of local business in Chicago. It also made her a billionaire. But even her personal riches were overshadowed by the influence that Oprah could wield over other people's success. The mere mention of a product on her show could see it cleared off the shelves the next day as viewers scrambled to buy it. Her famous book club could turn an unknown author into a bestseller overnight. It was all
dubbed the 'Oprah effect'."
The final episode of The Oprah Winfrey Show will air next week.
You'll find the full article at the Guardian's website.
Dr. McCall was quoted in another Guardian story on Winfrey in December 2010. A 1976 graduate of DePauw, the professor authored the book Viewer Discretion Advised: Taking Control of Mass Media Influences and is frequently called upon by major media outlets to discuss media matters. Last week he discussed Jim Lehrer's decision to step away from PBS' NewsHour with the Christian Science Monitor. On May 7, McCall's op-ed column on the state of TV news was published in the Indianapolis Star.
Source: Guardian (U.K.)
Back