Forecast Calls for 30% Chance of Storms for Sunday's Commencement
May 19, 2011
Also: Latest Weather Forecast; Tim Solso '69 to Deliver Principal Address; Three to Receive Honorary Degrees; Webcast Information; Pre-Order Commencement DVD
May 19, 2011, Greencastle, Ind. — As DePauw University prepares for Sunday's 172nd annual commencement exercises, eyes are on the skies as there is potential for wet weather. As of 1 p.m. today, the forecast is calling for a 30% chance of isolated thunderstorms Sunday with a high temperature of 81 degrees. The ceremony is scheduled to take place at 1 p.m. in Holton Memorial Quadrangle, but Neal Fieldhouse within the Lilly Center is ready to be used as a backup location should the weather force the proceedings inside.
Get the latest updates on weather conditions here.
Approximately 530 seniors are expected to march at Sunday's graduation.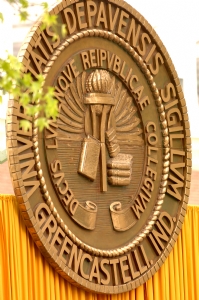 Theodore M. "Tim" Solso, chairman and chief executive officer of Cummins Inc. and 1969 graduate of DePauw University, will deliver the principal address to DePauw's Class of 2011 at Sunday's ceremony.
Solso and two other distinguished individuals -- Cassel Grubb, professor emeritus of music at DePauw and former director of the DePauw University School of Music; and Ian Morris, Jean and Rebecca Willard Professor of Classics and professor of history at Stanford University, will receive honorary doctoral degrees.
For a fourth consecutive year, the graduation ceremonies will be webcast live. By clicking this link, you'll be able to access a video and audio feed of the complete program.
For the tenth year in a row, DePauw will produce a limited edition commemorative DVD, which is available for pre-order. The disc, which is professionally replicated, will include footage of each graduate receiving their DePauw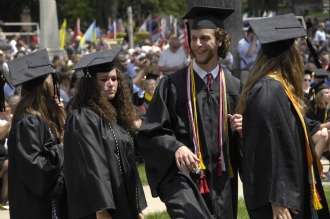 diploma as well as a range of bonus materials, including clips of campus highlights from the past four years (beginning with the Class of 2011's arrival through the awarding of the Walker Cup and Relay For Life). Orders are now being accepted at $19.95 for the first disc; additional DVDs sent to the same address will be $8 each (7% sales tax will be added to Indiana orders). An online order form is available here; you can learn more about the disc in this article.
For more information on DePauw's 172nd commencement, click here.
Back