DePauw Finishes Tied for Fifth at NCAA Softball Championship; Tigers Drop Elimination Game to SUNY Cortland
May 22, 2011
NCAA.COM SITE | BOX SCORE | PHOTOS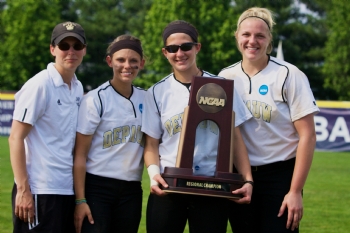 May 22, 2011, Salem, Va. — Eighth-ranked SUNY Cortland scored five runs each in the fifth and sixth innings and wiped out a five-run DePauw lead as the Red Dragons eliminated the Tigers from the NCAA Division III Softball Championship with a 14-8 victory.
DePauw completed its season at 32-11-1 and finished tied for fifth in Division III for the second straight year and third time in the last five seasons.
SUNY Cortland improved to 42-4-1 and advanced in the loser's bracket to tonight's elimination game against Linfield.
The Tigers jumped out to a big lead in their first at-bat as Rachel MacBeth led off the game with a single and moved to second on Brianne Weeks' sacrifice bunt. Jen Kosinski then reached on an error which allowed MacBeth to advance to third. After Kosinksi stole second, Emma Minx reached on an error with both runners scoring. Haley Buchanan then singled and Amy Hallett followed with a three-run homer to push the lead to 5-0. The Tigers did load the bases again, but hit into an inning-ending double play.


Cortland countered with a pair in the bottom of the first as Donnalyn Cross led off with a triple and scored on Lucia Meola's single. Jessica Harman later followed with a solo homer to close the Tigers' lead to 5-2.

Hallett led off the third by reaching on an error and moved to second on Holly Paris' ground out. Ashlee Anton reached on an error which allowed Hallett to move to third. MacBeth then delivered a two-out infield single which plated Hallett and extended DePauw's lead to 6-2.
The Red Dragons added two more in the third as Brooke Weidman led off with a double and moved to third on Cross' single. Meola drove in both with a single to close the DePauw lead to 6-4.
DePauw made it 7-4 in the fourth as Kosinski reached on an error and later scored on Hallett's single to center.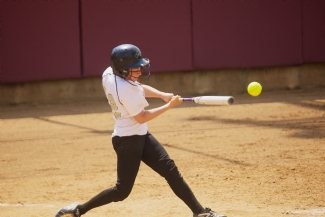 Weidman led off the bottom of the fifth with a single and scored on Cross' double. Cross then came home when Meola singled. Abby Martin followed with a base hit and both advanced on a Harman's ground out. Cassie Kardias walked to load the bases before Meola and pinch-runner Charlotte Freed both crossed the plate after a wild pitch. Meaghan Kohler followed with a single which scored Kardiaas and gave the Red Dragons a 9-7 advantage.
DePauw closed the gap to 9-8 in the sixth as Haley Buchanan led off with a single and later scored on Jamie Story's ground out.
The Red Dragons pulled away in the sixth as Weidman led off with a walk and scored on Cross' triple. Meola walked and Martin lifted a sacrifice fly to center which brought home Cross. Harman walked and Kardias singled to load the bases. Meola scored from third when the throw to the plate on Kohler's fielder's choice grounder was off the mark. Tara Donnino plated Harman with a sacrifice fly and Katie Fusco scored Kardias with a single.
DePauw totaled 10 hits with Buchanan leading the way with three. MacBeth and Hallett each had two and Hallett knocked in four. The Red Dragons totaled 14 hits with Cross totaling four. Meola added three and Weidman finished with two. Meola drove in four and Cross scored four.
Lyndsay Rowell picked up the win and improved to 26-3. All eight runs she allowed were unearned as SUNY Cortland committed eight errors. Emily Bichler suffered the loss and finished at 30-11.
The game marked the final collegiate contest for DePauw seniors Minx, Weeks and Anton. The three were part of teams which finished with a 135-38-1 record, won three SCAC titles, two regionals, finished second at two other regionals and finished tied for fifth in the nation twice.
Pictured at top with Regional Championship trophy are head coach Bonnie Skrenta and seniors Brianne Weeks, Emma Minx and Ashlee Anton.
Follow DePauw Athletics on Twitter | Become a Fan of DePauw Athletics on Facebook
Back