Two With DePauw Ties to Assist with Local Foreign Exchange Students
May 24, 2011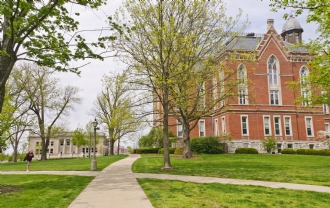 May 24, 2011, Greencastle, Ind. —Two Greencastle residents, Linda Sebree and Patrick Aikman, have been named community coordinators for the Program Academic Exchange (PAX), a not-for-profit agency based in Port Chester, N.Y.," reports the Banner-Graphic. PAX offers both inbound and outbound high school students international experiences with hosting families with whom they live, in most cases for one or two semesters and sometimes 4-6 weeks. Aikman is a 1957 graduate of DePauw University, while Sebree is an assistant at the DePauw Archives and Special Collections.
The newspaper notes that "Sebree has been designated to work with students and families in North Putnam and Greencastle High School, as well as schools in

Montgomery County. Aikman is assigned to assist with South Putnam and Cloverdale schools, as well as other nearby communities and their high schools -- Brazil, Plainfield, Spencer and Rockville -- to establish contacts and enrollments. However, both Sebree and Aikman can work with any high school in the county based on the family's decision.
Read more at the newspaper's website.
Back