Mike Howland '02 Named Head Hoops Coach at HS Alma Mater
May 23, 2011
May 23, 2011, Greencastle, Ind. — "I couldn't be more excited," says Mike Howland, a 2002 graduate of DePauw University, who was today introduced as the new boys basketball coach at St. Viator High School in Arlington Heights, Illinois, his high school alma mater. He replaces Joe Majkowski, who retired after 24 years pacing the baseline. "I've always had this dream of taking the program over when Joe was done," says Howland. "And now it's here. I feel like I'm ready." (at left: Majkowski and Howland, courtesy Chicago Daily Herald)
As a high school junior, Howland helped Viator win a share of the East Suburban Catholic Conference title in 1996-97. "Howland went on to be a standout player at DePauw University in Greencastle, Ind.," reports the Chicago Daily Herald's Marty Maciaszek. "He played alongside Brad Stevens, who has coached Butler University to NCAA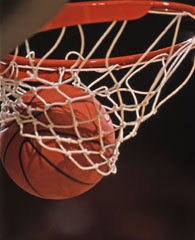 runner-up finishes the last two years."
The story adds, "The 30-year-old Howland, who works as a commodities trader in Chicago, came back was an assistant to Majkowski for eight years. He was an integral part of the Lions' most successful season in 2010 when they won a school-record 24 games and made their deepest tournament advancement to the Class 3A supersectional."
Read more at the newspaper's website.
Another story on Mike Howland can be found here.
Back