Bill Rasmussen '54 Among Luminaries Interviewed in New Book on ESPN
May 24, 2011
May 24, 2011, Greencastle, Ind. — "A new book about ESPN mixes a detailed corporate history of the 24-hour-a-day sports network with off-camera gossip and after-hours tales about the personalities there," reports the Associated Press. "Called Those Guys Have All the Fun: Inside the World of ESPN, the book is due for publication today, but some copies were distributed last week."
More than 550 people were interviewed for the project, the article notes. "Chris Berman, Keith Olbermann, Bob Ley and other on-camera stars join network executives including founding chairman Bill Rasmussen, who initially incorporated his company as the ESP Network in 1978, in chronicling the rise of 'the worldwide leader in sports.' The interviews are published, according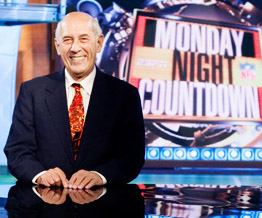 to the authors, with minimal editing and provide in-depth looks at many of the key moments that helped propel the network to an international behemoth."
Rasmussen, a 1954 graduate of DePauw University, co-founded ESPN with his son Scott, a 1986 DePauw grad.
Others interviewed for the book -- authored by James Andrew Miller and Tom Shales -- include President Barack Obama, Warren Buffett, Peyton Manning and Spike Lee.
Read more in the Salem News of Beverly, Massachusetts or at the website of the Green Bay Press-Gazette.
A Sports Illustrated look at Those Guys Have All the Fun notes, "Much of the first quarter of the book focuses on the network's rise from humble origins, from founder Bill Rasmussen's decision to buy a transponder in 1978 on RCA SAT-COM 1, to Getty Oil's early investment of $15 million, to the genius of creating a dual revenue stream in the form of payments from

cable operators and advertising sales (which set up ESPN for world domination)," writes Richard Deitsch.
Bill Rasmussen authored Sports Junkies Rejoice! The Birth of ESPN and is among 39 business leaders interviewed in a recent book, Tough Calls From the Corner Office. He was recently recognized as one of the 2011 class of "The Champions: Pioneers & Innovators in Sports Business."
Scott Rasmussen is founder and president of Rasmussen Reports, one of the nation's leading polling firms. Learn more about him in this recent article.
Back