From 91.5 to 500
May 25, 2011

The Indianapolis 500 is celebrating its 100th year of racing, and Ryan D. Myrehn '11 is excited to have a role in communicating the monumental event this weekend. He's been hired by the Indianapolis Motor Speedway Radio Network to help cover the race.

For comparison, the first Indianapolis 500 was held in 1911, and winner Ray Harroun averaged slightly more than 74 miles per hour. Last weekend, Alex Tagliani won the pole position averaging 227 miles per hour.

"I happened to be standing right behind Tagliani as he got out of his car," Myrehn says. "You could see my face over his shoulder, and the local television cameras got the shot. It was an incredible moment. Just being able to mingle with some of the drivers, team owners and people in the media whom I've idolized for quite some time has been an amazing experience."

Myrehn's responsibilities include helping with production of radio shows and also shadowing pit reporters and conducting interviews. Myrehn, who graduated from DePauw last weekend with a major in communication and minor in history, hopes that this internship will lead to a permanent position. He has plenty of experience in both – motorsports and radio.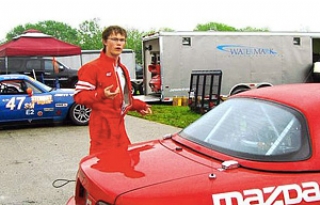 Myrehn and his father, Bruce D. Myrehn '82, recently started road racing a Mazda Miata at an amateur level. "I'm trying to see where it might take me. We started about a year and a half ago, and it's been something that we've really enjoyed and are starting to become fairly successful at," he says.
Myrehn's other family ties to DePauw include his mother Kimberly K. Holycross Myrehn '82, sister Megan L. Myrehn '12, aunt Ruth Myrehn Brown '84 and uncle Rob Brown '83.
As a junior, Ryan Myrehn started a weekly show on DePauw's radio station, WGRE 91.5 FM, that focused on motorsports. "It's been a passion of mine since I was very young. With some help from my co-host, Clay [Clayton P. Carter, associate coordinator of media services and support], we talked about all kinds of things, including the Indy 500, NASCAR and Formula 1 Racing. One of the greatest shows we did this year was interviewing Al Unser Sr.

[Download Audio: "WGRE interview with Al Unser Sr." - kb], which was pretty phenomenal. He is one of only three men to win the Indy 500 four times," Myrehn says.

It was Myrehn's grandparents who made the connection for their grandson. "They were traveling in New Mexico and stopped by the Unser Racing Museum, and Al Unser Sr. happened to be there," Myrehn explains. "They told him about my show, and he said he would be happy to call in. Sure enough, they got his phone number, and I called him. He told me that he would love to come on WGRE. During the show, Clay and I spoke to him for about 20 minutes. He talked about recollections of his career and also the state of motorsports today."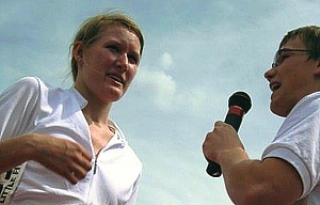 Jeffrey "Jeff" M. McCall '76, professor of communication and theatre, has been the WGRE station director for more than 25 years. "Ryan is a very talented broadcaster and was a leader in our WGRE sports broadcasts of Tiger athletics. He knows and enjoys sports, so he can present broadcasts in a conversational and fun manner," McCall says.

"I think Ryan has great potential in sports broadcasting. He is a fine communicator and is quite passionate about sports – especially auto racing. He will do an outstanding job for the Indy 500 Radio Network," McCall says.

During the race on Sunday, Myrehn will assist one of three pit reporters serving as a spotter. "Essentially, that means I'll help them out – locating certain people for interviews, and also trying to keep track of what's going on. While the reporters are doing their jobs down in the pits, it's sometimes hard to know what's happening in the grand scheme of things," he says.

Myrehn went on the record during one of his radio shows to say that Scott Dixon is going to be the race winner. "I'm not particularly good in terms of my track record, but he had a pretty good qualification. So, you never know. I may be on to something."
WGRE is the largest student-run organization on campus. More than 200 student volunteers – almost 10 percent of the student body – actively participate, providing live broadcasting 24/7 over the airways and, more recently, to a fast- growing audience through live Web streaming.

Founded in 1949, WGRE was the first FCC-licensed 10-watt educational FM radio station in the country. The station has won many awards over the years from the Society of Professional Journalists, Indiana Associated Press and Indiana Broadcasters Association.
Back