Jeyson Florez '07 Recognized as 'Posse Star'
May 25, 2011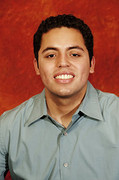 May 25, 2011, Greencastle, Ind. — Jeyson H. Florez, a 2007 graduate of DePauw University, was honored as a 2011 "Posse Star" at the Posse Foundation's annual gala tonight at Pier Sixty in New York City. Florez, a federal strategy & operations consultant for Deloitte Consulting LLP, was one of four honorees and was recognized as an outstanding alumnus of the Posse program.
"A Posse Star is an individual who exhibits leadership, who makes a significant contribution in the field of education, and who positively affects people's lives," notes the foundation. Each year, The Posse Foundation identifies honorees who exemplify these attributes. They are public leaders, presidents and chancellors of Posse partner colleges and universities, and Posse Alumni. The Posse Foundation also awards a star to an outstanding company or foundation that has invested significant resources in helping Posse achieve its goals. We are proud to acknowledge these honorees as role models for all of us."
The event was emceed by 60 Minutes correspondent Lesley Stahl, and featured an appearance by Saturday Night Live's Jay Pharoah.
The Posse Foundation identifies public high school students with extraordinary academic and leadership potential, who may be overlooked by the traditional college selection process. The Foundation extends
to these students the opportunity to pursue personal achievement and academic excellence by placing them in supportive, multi-cultural teams ("posses") of 10 students. The Foundation's partner universities acknowledge Posse Scholars by awarding them four-year, full-tuition, leadership scholarships. DePauw hosts two Posses each year -- one from New York City and the other from Chicago -- and has been a Posse partner since 1996.
In 2004, DePauw's eighteenth president, Robert G. Bottoms, was recognized as a Posse Star. Two years ago, Posse honored Timothy H. Ubben '58 and Tiffany A. Schiffner '02.
Jeyson Florez spent the 2007-08 academic year researching wealth distribution and poverty in Costa Rica as a Fulbright Scholar. Learn more in this article.
Back