Gooch and Lazar Headline DePauw's Postseason Golf Honors
May 12, 2011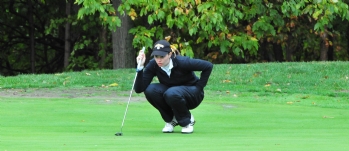 May 12, 2011, Greencastle, Ind. — DePauw freshman Paige Gooch (left) and head coach Vince Lazar topped the list of DePauw's postseason award winners at the annual National Golf Coaches Association Division III Awards Banquet.
Gooch was named the NGCA's Division III Freshman of the Year after averaging 79.8 strokes over the course of her 21 rounds entering the Division III Women's Golf Championships. The Southern Collegiate Athletic Conference Player and Freshman of the Year, Gooch posted six top-10 finishes among the 11 tournaments in which she competed. Her low round of 74 came at the Katman Klassic in April.
Lazar was named the Division III Coach of the Year by the NGCA for the third time in his career after earning similar honors in both 2002 and 2004. Completing his 13th year at DePauw, Lazar directed the Tigers to the top seed in the NCAA Division III Championships and a number-two ranking in the coaches' poll throughout the year. Lazar has led DePauw to six tournament titles including the program's seventh SCAC championship in the last 10 years and was also named the Great Lakes Region Coach of the Year. This year's NCAA appearance is the Tigers' 10th straight.
Junior Taylor Beaty was named to the NGCA Division III All-America First Team. Beaty entered the Division III Championship as DePauw's leader with a 79.3 stroke average through 21 rounds. She also led the Tigers with seven top-10 finishes including three runner-up finishes and shot a low round of 71 at the Pat Clouse Invitational in October. Gooch earned second team All-America honors.

Joining the pair on the all-Great Lakes Region Team were junior Kelly Gaughan, senior Natalie Gough and sophomore Camila Romero. Gaughan averaged an 80.2 over her 21 rounds and won the DePauw Small College Classic in September. Her low round of 72 came in the opening round of the SCAC Championships.
Gough averaged 81.2 over 21 rounds and won the season-opening Anderson Invitational and the Katman Klassic in April. Her low round of 70, which also was the best on the team this year, came in the Katman Klassic. Romero averaged 80.9 over 21 rounds and posted a fourth-place showing at the Anderson Invitational and had a low round of 71 at the Charleston Southern Wendy's Invitational.
Follow DePauw Athletics on Twitter | Become a Fan of DePauw Athletics on Facebook
Back