Cornerstone Laid for New Student Union Building
May 12, 1950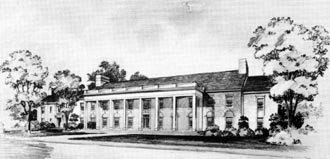 May 12, 1950, Greencastle, Ind. — The cornerstone for DePauw University's new Student Union Building was laid today. With a projected cost of $800,000, the structure will become the first real campus-community social center and was made possible by contributions from Greencastle residents which totaled more than $150,000.
The campaign for the new building began in November 1946 with a kick-off dinner in the Riley Room of Indianapolis' Claypool Hotel and at the following day's Old Gold Chapel. Groundbreaking took place last June 11 (seen in photo at right).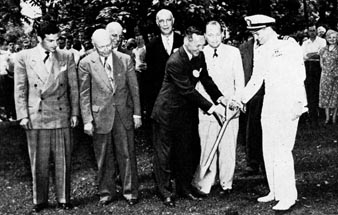 The basement will feature a fountain room, bowling alleys, game rooms, a craft shop, kitchen and service rooms. The main gallery will be designed as a gallery for art and other exhibits, and a large terrace will be constructed at the rear of the building. The first floor will have a large ballroom with a stage, reception room, dining room, main lounge and other amenities. The second floor will have broadcasting rooms for DePauw's new student radio station, WGRE. Most of the other space on the second level will be made available for use by student organizations.
Learn more in this previous story.
Back