Jim Larson '05 Named Indiana's Director of School Turnaround and Improvement
June 9, 2011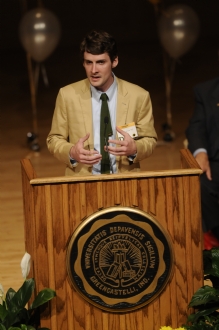 June 9, 2011, Greencastle, Ind. — "As Indiana's Department of Education eyes 18 schools for a possible state takeover, a top teacher at a highly-touted Indianapolis charter school will spearhead those efforts," begins a story in the Evansville Courier & Press announcing that Jim Larson, a 2005 graduate of DePauw University, has been appointed the state's new director of school turnaround and improvement. "He takes the job as the state holds hearings to determine the best way to intervene in the 18 buildings that have been on 'academic probation,' the lowest of five possible categorizations of schools, for six consecutive years," writes Eric Bradner.
Larson comes to his new post from Indianapolis' Charles A. Tindley Accredited School, where he was a seventh grade humanities teacher. The newspaper notes, "Larson studied education at DePauw University in Greencastle, Ind., and then received a master's in education from Harvard University. Before he was hired by Tindley, he was conducting research into the effects of after-school programs in the Boston area for Harvard Medical School. By his second year at Tindley, Larson was leading a summer training program for teachers. His third year, he drove a group of teachers, at his own expense, to Louisiana for a training program, said Marcus Robinson, the school's principal."

Robinson, who is a 1994 DePauw graduate, says of Larson, "He's the kind of guy who's there after school coaching other teachers. I've had teachers who have said, 'I had to step up my game because I'm in the same hallway as Jim Larson.' " Noting that Larson was Tindley's "teacher of the year" in 2010, Robinson adds, "We had some kids on the last day of school who were in tears because Mr. Larson wasn't going to be their teacher next year. He really pored himself into his students."
State Superintendent of Public Instruction Tony Bennett, who appointed Larson, says, "He understands urban education. He understands the challenges that this department has faced. He has engaged himself as a strong student of policy, a strong advocate for accountability and mostly, a strong voice that all children regardless of their financial means or their race or any other external descriptor can learn if provided an environment with great educators and high expectations."
Larson, who has served as a member of the Indiana Department of Education's Education Reform Cabinet, states, "I am humbled and grateful for the opportunity to serve the Hoosier state and its children, our most important asset.
I am committed to working with my new colleagues in the Department of Education and with the community of each turnaround school to ensure all children receive the high-quality education they need to be successful in college and the workforce."
Read more at the Courier & Press' website. Also available is a news release.
James Larson was one of the speakers at DePauw's Alumni Reunion Celebration in June 2010. Last September he participated in an NBC program, "Education Nation." Details can be found in this previous article.
Back