UN's Ralph Bunche Will Address DePauw's Class of 1956
March 27, 1956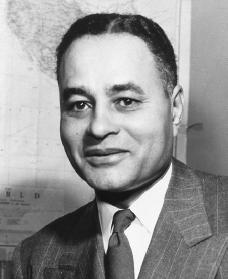 March 27, 1956, Greencastle, Ind. — "A famed United Nations official, Dr. Ralph J. Bunche, has been announced as the 1956 commencement speaker at DePauw University," reports the Greencastle Banner today. "First associated with the United Nations in 1946 while an officer in the U.S. State Department, Dr. Bunche currently is undersecretary of the international organization."
DePauw's 117th commencement will take place June 10 at Blackstock Stadium.
The newspaper notes that Bunche "served as a member of the United States delegation to the Dumbarton Oaks Conference, the San Francisco Conference, the Preparatory Commission of the UN, and the first UN General Assembly in London in 1946. Later Dr. Bunche resigned from the State Department and accepted a permanent position in the Department of Trusteeship and Information from Non-Self Governing Territories. Following the death of Count

Folke Bernadotte, UN mediator in the Palestine dispute, Bunche was named acting mediator and negotiated the four Armistice Agreements between Israel and the Arab States in 1949.
Dr. Bunche was awarded the Nobel Peace Prize in 1950.
He earned a B.A. at the University of California - Los Angeles and both the M.A. and Ph.D. at Harvard University. Bunche later conducted post-doctoral work at Northwestern University, the London School of Economics and the University of Cape Town.
Back