Prof. John Anderson Tapped to Serve as Assistant Dean
May 31, 1973
May 31, 1973, Greencastle, Ind. — John R. Anderson, a member of the DePauw University faculty for more than a dozen years, has been appointed assistant dean of the University and director of graduate studies with the rank of associate professor. Effective July 1, the appointment -- announced by DePauw President William E. Kerstetter -- will move Dr. Anderson from his previous full-time teaching duties in the department of mathematics and astronomy. He will continue, however, to teach one course in math.
A native of Stromsburg, Nebraska, Anderson joined the DePauw faculty in 1960 after spending six years as a senior project engineer with the Allison Division of General Motors in Indianapolis.
From 1952-54, Anderson was a graduate assistant in the department of mathematics at the University of Nebraska. During the preceding year, he taught mathematics and science at Bloomfield High School in Nebraska.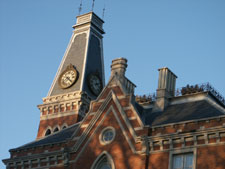 He earned the AA degree from Luther College and the B.S. and M.A. degrees from the University of Nebraska. The recipient of a Danforth Fellowship, Anderson earned a Ph.D. from Purdue University in 1970.
DePauw University is a private, co-educational liberal arts university with a School of Nursing, a School of Music, and a College of Liberal Arts. Its total enrollment for 1972-73 was 2,350.
Back