Prof. Robert Thomas Named Consultant to National Panel on Computing
March 5, 1970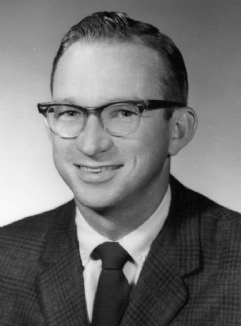 March 5, 1970, Greencastle, Ind. — The nation's primary policy-forming committee in the field of undergraduate mathematics has named DePauw University professor Robert Thomas as a consultant. The 39-year old this week was one of four mathematicians selected to offer their expertise to a special panel on computing.
The appointment was made by Paul T. Mielke, associate director of the Committee on the Undergraduate Program in Mathematics (CUPM) and Professor Werner Rheinboldt of the University of Maryland.
The panel is charged with examining on a national scale the impact of modern computing techniques on traditional courses in math, as well as new course offerings, and to assess the role of computer technological developments as they affect the content and teaching of undergraduate classes at various levels. The group is also responsible for offering advice on computer training and re-training programs required for high school and college teachers.
Joining Dr. Thomas on the panel will be: Prof. Dorothy
Bernstein, Goucher College; Prof. Robert Morris, Bell Telephone Laboratories; and Prof. Milton Rose, Colorado State University.
Thomas, who is also adviser for pre-engineering students at DePauw, attended the group's first organizational meeting in Chicago 11 days ago.
Professor Thomas is a Danforth Fellow and a 1952 A.B. graduate of Oberlin College. He earned his Ph.D. from the University of Illinois.
A member of the DePauw faculty since 1958, Thomas was recently published in the international journal, Experimental Cell Research.
Back