Prof. Jeff McCall '76 Analyzes First Obama-Romney Debate on TV Program
October 4, 2012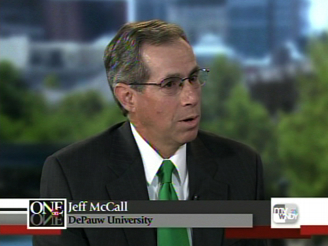 "Last night's debate was fascinating, and it may be different from some of the debates in the past," Jeff McCall, professor of communication at DePauw University, said on Mike Ahern: One on One. The program aired on Indianapolis television station WNDY 24 hours after the conclusion of the first presidential debate between Barack Obama and Mitt Romney. Dr. McCall spent a half-hour analyzing the session and the performance of the two candidates on the show hosted by Ahern, a veteran journalist.
Historically, debates don't do much to "move the needle" and change the dynamics of a presidential contest, McCall noted. But Wednesday night's event may be a different animal, according to the professor.
"The performance of Romney seemed to catch the president by surprise," McCall told the program. "Maybe President Obama was playing it safe a little bit, sitting on a lead maybe, to use a football expression, and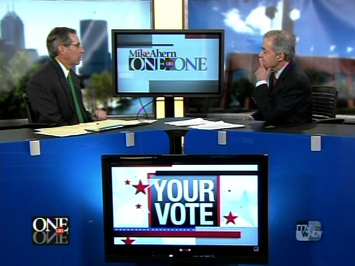 Romney seemed to take advantage of that and came well-prepared. "
Professor McCall's appearance on the program came just a few days after his column in the Indianapolis Star declared, "The presidential debates would better serve the citizenry if they were not presented on television ... Television is a terrible place for presidential candidates to demonstrate whether they have the ideas and substance to lead the country in these challenging times."
The column is available via this summary; the video of the TV program is embedded below.
Jeffrey M. McCall, author of Viewer Discretion Advised: Taking Control of Mass Media Influences, is a 1976 graduate of DePauw.
Source: WNDY-TV (Indianapolis)
Back