Joachim Schamberger Appointed Lee G. Hall Visiting Professor of Music
June 16, 2011
June 16, 2011, Greencastle, Ind. — International stage director and virtual theatre designer Joachim Schamberger will join the faculty of the DePauw University School of Music for the 2011-12 academic year. Schamberger has been appointed the Lee G. Hall Visiting Professor of Music, and will design and direct the 2012 DePauw Opera production of Benjamin Britten's Albert Herring.
Schamberger boasts a wide variety of repertoire in directing, performing, and design. His recent productions include Die Fledermaus, Idomeneo, Max und Moritz, and Las Horas Vacias, to name a few. This past season, he served as artist-in-residence with the Indianapolis Opera, directing performances of La Traviata (Verdi) and La Tragédie de Carmen (Bizet), as well as serving as the artistic director for Indianapolis Opera's Young Artist Program.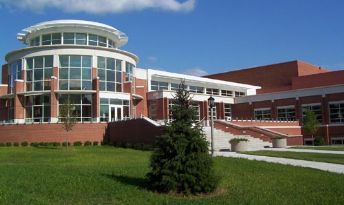 "We are so thrilled to have Joachim as the Lee G. Hall Visiting Professor next year," states Caroline B. Smith, Cassel Grubb University Professor and coordinator of voice in the School of Music. "This is a tremendous boon to the vocal area and such a fantastic opportunity for our voice students to work with someone of Joachim's stature and talent. I am so very appreciative to the University for making this a reality. It should be an exciting year."
Schamberger graduated from the Musikhochschule in Würzburg, Germany, and the Merola Opera Program of San Francisco Opera, and studied digital film production and 3-D animation at the New York Film Academy. He has worked with young artists around the world, including the Brooklyn College Conservatory, the International Institute of Vocal Arts in Italy, the International Vocal Arts Institute
in Tel Aviv, the Juilliard School, and Indiana University.
"Joachim is so very impressive and his work first-rate," states Caroline Jetton, dean of the School of Music. "I am confident that the students will have a tremendous and unique experience working with him and learning from him. Our students want to learn and realize their full potential; they will certainly be afforded this opportunity as they work with Mr. Schamberger on the production of Albert Herring."
DePauw Opera will present Albert Herring on March 1-4, 2012, in Moore Theatre of the Judson and Joyce Green Center for the Performing Arts.
Founded in 1884, the DePauw School of Music is one of the oldest in the nation, and it has an established tradition of educating leaders in virtually every facet of music -- including performers, educators, composers and administrators. Learn more here.
Back