Dan Quayle '69, Michael Jordan, Tony Romo & Others to Raise Funds for Cancer Fight
June 21, 2011
June 21, 2011, Greencastle, Ind. — Dan Quayle, the 44th Vice President of the United States and 1969 graduate of DePauw University, will be among the celebrity golfers taking part in the 22nd annual American Century Championship, July 15-17, in Lake Tahoe, Nevada. The event, which will be held at the Edgewood Tahoe Golf Course, will raise funds for LIVESTRONG®. Founded by seven-time Tour de France winner Lance Armstrong, LIVESTRONG works to unite people all over the globe to fight cancer and support survivors.
Others in the tournament's 2011 field include Michael Jordan, Charles Barkley, Joe Theismann, Tony Romo, Tim Tebow, Jimmer Fredette, Lou Holtz, Jason Kidd and Ray Romano.
The tournament will be aired on NBC, the Golf Channel and Versus. More than $3 million has been raised for a variety of national and local charities since the tournament's inception in 1990.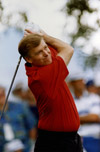 Learn more here.
Dan Quayle served as a U.S. Congressman and Senator before becoming America's 44th Vice President in 1989. He is now chairman of Cerberus Global Investments. A member of DePauw's Athletic Hall of Fame, Quayle captained the Tiger golf team. On October 26, 1990, the vice president was awarded his alma mater's McNaughton Medal for Public Service. On May 22, 1982, as a United States Senator, Quayle provided the commencement address at DePauw.
Access another recent story on Dan Quayle.
Back