Monon Bell is "The Easy Answer for Indiana's Best Sports Ticket": Newspaper
June 21, 2011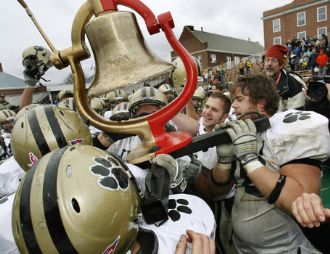 June 21, 2011, Greencastle, Ind. — "It takes only one word for those associated with DePauw University and Wabash College to cause a flurry -- Monon," begins an article in Indiana's Fort Wayne News-Sentinel. "For one week each November, two fanatic fan bases go into a frenzy that no other sporting event in Indiana can offer. The two schools' combined attendance is about 3,500, but they still have to build -- yes, build -- more stands at the stadiums every year to seat the 12,000 tickets that will be sold." (at left: 2008 postgame celebration; below: promotion for the 1936 Monon Bell Classic)
The piece is part of a series of stories highlighting "the best events an Indiana sports fan would want to see over a lifetime." It's written by Jonathan Batuello, a 2010 DePauw graduate.
"Every fan and player involved realizes that this is how the
season will be defined," declares Batuello, who was a communication major and Media Fellow. "Players and coaches on both sides always say they only care about who wins the Monon Bell game (and they should know since at least one of the two teams has made the Division III playoffs five of the past six years). It's heated enough that coaches who took their teams to the playoffs have been fired over losing too many games to this specific opponent.

Besides being one of America's longest (started in 1890) and closest (55-53-9 in Wabash's favor) rivalries, "realize this game has a national television contract with HDNet, has been on ABC and ESPN2, and has been covered by Sports Illustrated. It was voted Indiana's top sports rivalry in 2005 by fans visiting ESPN's website, beating No. 2 Indiana-Purdue basketball by nearly 10 percent, as well as Colts-Patriots and Notre Dame-Purdue football."
The text concludes, "The great games and finishes could go on forever, but really it comes down to one hope and reason to go. It's not the great tailgating or the intensity on the field – which is as high as any sporting
event has to offer when the athletes aren't worried about scholarships or draft status -- but it's simply grabbing that Monon Bell and ringing it with an entire fan base after a win. Ding-ding-ding, it's the easy answer for Indiana's best sports ticket."
Access the column at the News-Sentinel's website.

[Download Video: "1993 Version - Ballad of the Monon Bell" - 10,522kb]
The 118th Monon Bell Classic will take place on Saturday, November 12, at DePauw's Blackstock Stadium. Access DePauw's Monon Bell Web page here.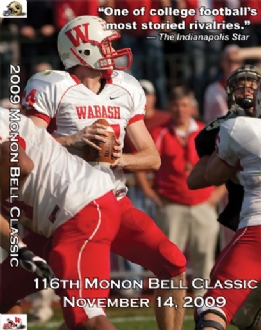 [Download Video: "Ballad of the Monon Bell - 2007 Version" - 10,419kb]

[Download Audio: "Ballad of the Monon Bell - Stereo" - 2514kb]
Professionally replicated DVDs have been produced of 13 complete Monon Bell games -- the 2000 through 2010 games, as well as the 1977 and 1994 Monon Bell Classics. Learn more here. (the front cover of the 2009 disc is seen at right)
A complete roster of "Monon Memories" -- video highlights of past classics -- can be found here or at YouTube.
Back