Prof. Orcenith Smith Contributes to 'Strings and Jazzy Things'
June 8, 2011
June 8, 2011, Greencastle, Ind. — Orcenith Smith, professor of music and director of orchestras at DePauw University, will serve as an instructor at a musical summer camp, "Strings and Jazzy Things", June 13-17. The camp, at Broad Ripple High School, was established by the Philharmonic Orchestra of Indianapolis and serves inner-city Indianapolis middle school students.
With teachers coming from Indianapolis' leading classical and jazz musicians, the five-day, tuition-free program is completely funded by a number of organizations, including the Lilly Endowment, the Christel DeHaan Family Foundation, the Indianapolis Symphony, and St. Paul's Episcopal Church.
"Since school has finished for the year, the Strings and Jazzy Things camp is a wonderful opportunity for these students to find a way to extend their music-making development," explains Professor Smith. "With gracious foundation and community support, the students receive five days of an intensive all-day focus. This helps them accomplish more in less time. They are around other focused peers and talented and caring teachers who amplify the learning process."
Included in the camp are daily jazz improvisation and body movement sessions, as well as string and band sectional master classes. Smith held auditions twice in May for placement in the string ensembles, and conducted the advanced string orchestra for the week.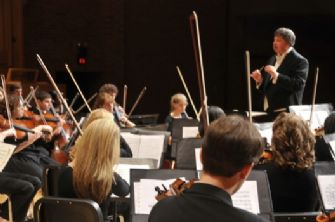 Named "Outstanding Professor of Music" three times at DePauw, Smith was the inaugural recipient of the Cassel Grubb University Professorship in Music (1999-2003). He has conducted nearly 700 performances of orchestral, operatic and choral/orchestral repertoire in the United States and abroad.
Founded in 1884, the DePauw School of Music is one of the oldest in the nation and has an established tradition of educating leaders in virtually every facet of music -- including performers, educators, composers and administrators. Vist the School of Music online.
Back