Indiana Humanities & CEO Keira Amstutz '91 Sponsor 'Teach Vonnegut' Workshop
June 27, 2011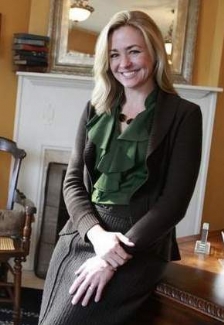 June 27, 2011, Greencastle, Ind. — An upcoming week-long workshop on the late Kurt Vonnegut will give Indiana students an opportunity to learn more about "one of our state's greatest literary voices," says Keira Amstutz, president and chief executive officer of Indiana Humanities and 1991 graduate of DePauw University. She is quoted in an Associated Press article previewing July's "Teaching Teachers to Teach Vonnegut" workshop, which will be presented by the Kurt Vonnegut Memorial Library in Indianapolis.
"The program aims to help teachers better answer their students' questions about Vonnegut and spark more critical thinking," notes the story. "Teachers will
learn about Vonnegut novels such as Slaughterhouse-Five and discuss political problems with teaching high school students his works, some of which have been banned for alleged obscenity. The workshop is being paid for using grants from Indiana Humanities and the National Endowment for the Humanities."
Access the item at the website of Indiana's Columbus Republic.
Amstutz previously served as chief counsel and director of policy for the City of Indianapolis. Learn more about her in this recent story.
Back