Butler Coach Brad Stevens '99 Adjusts to the "New Normal"
June 26, 2011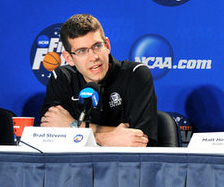 June 26, 2011, Greencastle, Ind. — "The world of Butler basketball is spinning out of control for Bulldogs coach Brad Stevens. And that is a good thing." writes Tom Davis in the Fort Wayne News-Sentinel. "Over the past three days, Stevens has had a vested interest in the NBA draft for the second consecutive summer, and for the third time in three years he's watched one of his players (Khyle Marshall this year) be selected to represent the United States in international play. Stevens, too, will represent the United States in the World University Games in China as an assistant coach in August."
Stevens, a 1999 graduate of DePauw University, has led Butler to the national championship two years in a row. He says his wife and DePauw classmate, Tracy (Wilhelmy) Stevens, "refers to this as the 'new normal'."
You'll find the complete article at the newspaper's website.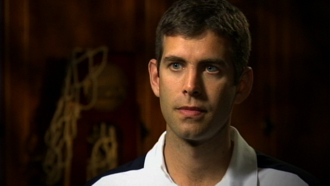 Stevens, who has been head coach at Butler for four years, was an economics major and Management Fellow at DePauw, where he played on the Tiger basketball team.
On April 13, 2010, Stevens returned to his alma mater to deliver the Robert C. McDermond Lecture.
Also available is this recent story and an online profile of Brad Stevens.
Back