Ryan Slabaugh '01 Appointed Co-Manager and Editor of Aspen Times
July 8, 2011
July 8, 2011, Greencastle, Ind. — Ryan Slabaugh, a 2001 graduate of DePauw University, has been named co-manager and editor of Colorado's Aspen Times and its weekly affiliates, the Aspen Times Weekly and the Snowmass Sun.
"The opportunity is to build upon a long history of talented editors and leaders at the Aspen Times," says Slabaugh. "So I know I'm a lucky guy with a tremendous responsibility. But I am confident because I believe in our team, our people, and our role here, and I know we will never waver from our commitment to this community. It is the community's paper, after all, and always will be."
A story in the newspaper notes, "Slabaugh, who grew up in the Midwest and graduated from DePauw University, joined the Roaring Fork newspapers in the fall of 2010. Previously he had been editor of the Sierra Sun and its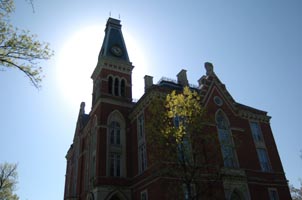 companion newspapers along the shore of Lake Tahoe in Nevada and California, and before that was managing editor of the Summit Daily News in Frisco and an editor at the Vail Daily."
Access the article at the Times' website.
Learn more about Ryan Slabaugh in this previous summary.
Back