A Winter Term in Summer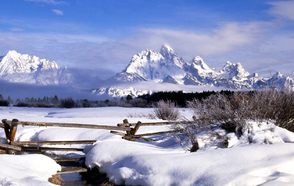 July 12, 2011
Twice since 2009, Assistant Professor of Modern Languages Roberta "Francesca" Seaman and her husband, Michael G. Seaman, a part-time instructor of classical studies, have taken students on Winter Term trips to Italy. It's common to find DePauw students scattered across the globe during Winter Term, but one major difference separates this course from the others: It takes place during summer break.

The Seamans' "Winter Term in May" originated as a way to accommodate members of the University's athletic teams, many of whom must remain on campus to practice with their teams during January, the traditional Winter Term month. Student-athletes such as Katherine S. Morrison '12, a member of the women's swim team, are given preferential enrollment and make up half the class as a result.

"I wanted to travel, and with swimming, a May term was ideal," Morrison says. "It was a great way to transition from finals to working in the summer. I loved the food and the art. Italy is literally an open history book."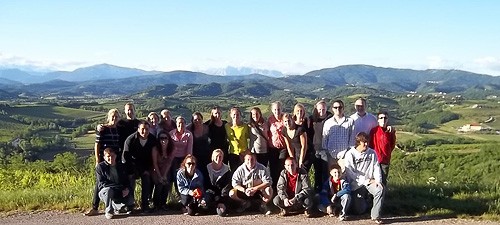 This year's study-tour, The Culture, Art History and Language of an Italian Border Area, began soon after DePauw's spring semester ended and continued into June. During that time, students visited seven UNESCO World Heritage sites, with frequent adventures off the beaten path. Trips to larger cities, such as Venice and Padua, were balanced with historic towns in Slovenia and Croatia – places that are historically and artistically significant, but less traveled.

Between viewings of art and architecture of the region, students also learned travel essentials in Italian and sampled the local fare. The class enjoyed meals in the rolling Collio Wine Country, at a 12th century "agriturismo" where all the food must be grown on location, and ate an authentic medieval dinner in the San Floriano Castle.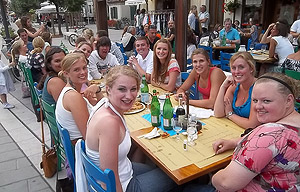 "Michael and I make a pretty good team," Seaman says. "He teaches the students history and art history, while I teach the basics of Italian language and culture."

The group based its day trips out of the northern island city of Grado, where Francesca was born and lived until coming to the United States for her own college education. Her familiarity with the city provided students with a level of cultural immersion that can be shared only by a native.

"The students are welcomed here more as friends than as tourists," Seaman says. "They meet Italians, including some university students, and so they get a real sense of Italian culture and life. They see Italy more as an insider and feel they belong to the community in a way that would not happen visiting other cities. When students return to Grado from a tour or from a trip during their day off, they often say that they felt as if they were coming home."

As it turns out, half of this year's travelers delayed their return. Instead, they continued to other parts of the continent, or put their new language skills to the test in Italy after the course had ended.

"Since there is no rush to return to campus, the students have the option to travel independently in Italy and Europe afterward," Seaman explains. "The airline ticket is a large part of the trip's cost, but staying on for a week or two does not add significantly to the cost for students."

Seaman says she hopes to add an overnight stay in the Austrian Alps to the 2012 trip, which students filled nearly as soon as it became available. Winter Term, it seems, is never out of season.
Back