Registration Under Way for DePauw Discourse 2011, Featuring Yo-Yo Ma
July 15, 2011
Also: DePauw Discourse 2011 Schedule; Presenter Biographies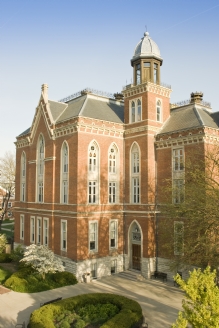 July 15, 2011, Greencastle, Ind. — Registration is now under way for "DePauw Discourse 2011: Empowering Society Through the Arts," which is scheduled to take place September 29 - October 1 and will feature world-renowned cellist Yo-Yo Ma in lecture and concert events.
Joined by alumni and distinguished guests, Yo-Yo Ma will lead a celebration of the arts and an exploration of their vital community role in sparking creativity, innovation, self-expression and dialogue.
DePauw Discourse registration, available at this online page, includes all event meals and a Yo-Yo Ma concert ticket. A limited number of Yo-Yo Ma concert tickets will be available separately, beginning August 29, including an allotment at no charge to DePauw students. Check this website in early August for specific information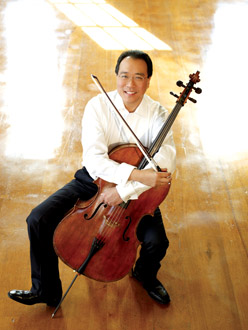 on individual tickets.
DePauw Discourse 2011 will include the following artists and leaders:
Maxwell Anderson, CEO, Indianapolis Museum of Art
Brian W. Casey, president, DePauw University
Civic Orchestra of Chicago
Sally Grooms Cowal '66, senior vice president, Population Services International
Simon Crookall, CEO, Indianapolis Symphony Orchestra
Willis "Bing" Davis '59, president, Willis "Bing" Davis Art Studio and Gallery
Donna DiNovelli, Heart of a Soldier opera librettist
Judson C. Green '74, former president and CEO, Navteq Corporation
Anne F. Harris, A. Reid Winsey Professor of Art, chair of the art department, and director of the women's studies program, DePauw University
Amy M. Hayes, adjunct professor of communication and theatre, director of Shakespeare in the Schools, DePauw University
Sara D. Horton '12, DePauw School of Music student
Kevin James '83, education director, American Composers Orchestra
Yo-Yo Ma, Judson and Joyce Green Creative Consultant, Chicago Symphony Orchestra
Michael "Mac" P. Mackenzie, associate professor of art, DePauw University
Mark McCoy, dean of the School of Music, DePauw University
Case M. Nafziger '12, DePauw University School of Music student
Betty Perry, artistic director, Indianapolis Metropolitan Youth Orchestra
Deborah Rutter, president, Chicago Symphony Orchestra
James B. Stewart Jr. '73, New York Times columnist and author of Heart of a Soldier: A Story of Love, Heroism, and September 11th
Christopher Theofanidis, Heart of a Soldier opera composer
DePauw Discourse 2011 presenter biographies and a full schedule of events are available here.
Established in 2004, DePauw Discourse is a symposium that gathers the nation's distinguished leaders and thinkers in conversations with the University community about some of the most pressing public issues of the day. Previous participants include L. Paul Bremer III, Madeleine Albright, Lee H. Hamilton '52, Vernon E. Jordan '57, Robert F. Kennedy Jr., Samantha Power, Bill McKibben, Roger Wilkins, Margaret Spellings, Wallace J. Nichols '89, Bob Herbert, Allan Hubbard and Paul Volcker.
For additional information, please send e-mail to discourse@depauw.edu or call (800) 446-5298.
Back