Prof. Jack Cook Remembers Percy Julian '20 as New Postage Stamp is Issued
January 29, 1993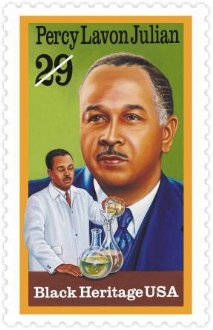 January 29, 1993, Greencastle, Ind. — A postage stamp honoring the pioneering chemist and 1920 DePauw University graduate Percy Lavon Julian is now available throughout the United States. The U.S. Postal Service issued the stamp -- the first in a Black Heritage Series -- today. A ceremony marking the occasion took place today at Roosevelt University in Chicago. Among the speakers was Donald J. "Jack" Cook, professor emeritus of chemistry at DePauw University and a longtime friend of Dr. Julian (who died in 1975) and his family.
"The winds of change continue to blow strongly at DePauw University," Dr. Cook said at the event. "Percy Lavon Julian was a product of a small liberal arts college. He truly exemplified the liberal arts man in every facet of his rich and illustrious life. Percy Julian's faith in his University has been fulfilled, and his legacy of excellence in all things, of brotherly love, of justice for all, of hope for the future still drifts across this campus as the winds of change continue to blow across our nation as she seeks to fulfill her destiny."
See and hear Professor Cook's complete remarks in this video.
Graduated from DePauw with Phi Beta Kappa and valedictory honors in 1920, Percy Julian earned a master's degree at Harvard and the Ph.D. at the University of Vienna and later returned to DePauw to as a research fellow. His work brought about development of a low cost method of producing cortisone, as well as a synthethic drug for the treatment of glaucoma, and a fire-fighting foam that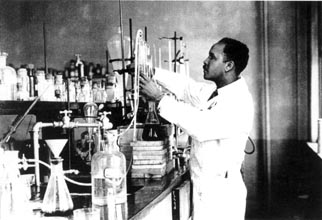 saved thousands of lives during World War II. Shortly before his death, Julian received the William Procter Prize for achievements in scientific research from Sigma Xi. (at right: Percy Julian working in his lab at DePauw)
Dr. Julian received an honorary doctorate from DePauw (1947), was awarded the Old Gold Goblet (1950), was a member of the University's Board of Trustees, and helped plan the science and mathematics center that was named for him in 1980. He was awarded the University's McNaughton Medal for Public Service in 1972 (see video:

[Download Video: "Film Clip of the Ceremony" - 2914kb] ).
Visit DePauw's Percy Julian Web site by clicking here.
Back