532 Graduates "Take Stock" in DePauw at University's 141st Commencement
May 18, 1980
Also: Video Clip of 141st Commencement
May 18, 1980, Greencastle, Ind. — Calling on graduates to embrace a sense of social responsibility as they received their undergraduate diplomas today, the Reverend Ralph T. Alton, resident bishop of the Indiana area, United Methodist Church, added "I would (also) hope that your experience at DePauw has created in you a thirst for learning that is not yet satisfied."
Degrees were distributed to 470 members of the Class of 1980 on the lawn of historic East College. Another 62 individuals received master's degrees.
Bishop Alton, who will be retiring later this year, also serves as president of the worldwide UMC Council of Bishops. He stated, "The world is full of people who are technically skilled in a particular capability. They have never learned, however, how to surround their capabilities with values that give them meaningful purpose or even satisfying opportunities."
A life trustee of DePauw, Alton today received an honorary Doctor of Divinity Degree at today's ceremony. Other honorary degrees were awarded to Chester Elson '36, insurance executive and inspirational leader of the 1933 football team's drive to raise funds to name the Raymond "Gaumey" Neal Fieldhouse in the new Lilly Center (Doctor of Humane Letters); and Marion Baumgardner, a Purdue University agronomist and a world leader in the hunger movement as well as an expert in the sensing of the earth's resources using satellite technology. (

[Download Audio: "Bishop Alton's Complete Address" - 8515kb] ; video)
Graduates also heard from their classmate, Dan Hasler, recipient of the 1980 Walker Cup. "This is not the end point," he stated. "We are not finished here. Today with this diploma we take stock in DePauw University much as one would take stock in a corporation. As graduates of DePauw we must see to it that the good continues to be consistently and constantly made better. Very few of us will ever have the privilege of serving DePauw as a member of the Board of Trustees or as a member of the Board of Visitors,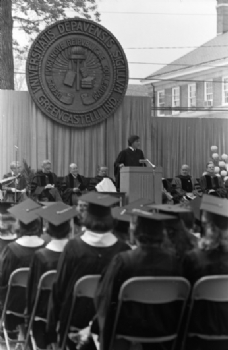 but all of us can serve DePauw in our hearts and forever through our actions." (

[Download Audio: "Complete Speech by Daniel J. Hasler '80" - 2622kb] ; video)
DePauw President Richard F. Rosser noted that the graduating class "has given an astounding and resounding vote of confidence in DePauw as an institution. We believe this particular Class of 1980 has established an all-time record for senior giving by having 82.37% of its members pledge some $16,500, and this is from many who already owe thousands ... and from people who are only beginning their careers." Dr. Rosser added, "Believe me, I will be holding up your record to every alumni group to speak to for years to come."
The University also honored retiring faculty members Donald Jack Cook, professor of chemistry, who came to DePauw in 1945; Edward L. Minar Jr., professor of classical studies and a faculty member since 1951; and Howard R. Youse, professor of botany and on the faculty since 1940. Also recognized was Edward Myers Dolan, professor of anthropology, who joined the faculty in 1963 and retired at the end of the 1979 calendar year.
Back