Magazine Features Nobel Prize Winner Ferid Murad '58
July 18, 2011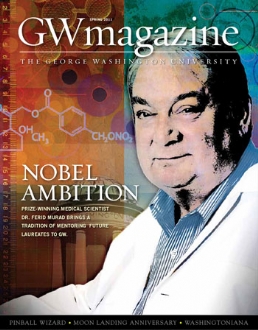 July 18, 2011, Greencastle, Ind. — "It's a whirlwind that has been blowing now for more than a decade," since Ferid Murad won the Nobel Prize in medicine, reports GW magazine. "Within just the first year his audiences included President Clinton, Supreme Court Chief Justice William Rehnquist, and Palestinian leader Yasser Arafat. He was feted at medical conferences; he served as grand marshal of a July Fourth parade in his hometown of Whiting, Ind.; and in Macedonia he met for the first time a small army of relatives."
The George Washington University publication features Dr. Murad, a 1958 graduate of DePauw University, on its cover. Murad joined the faculty of GW's School of Medicine and Health Sciences this spring as university professor -- the institution's highest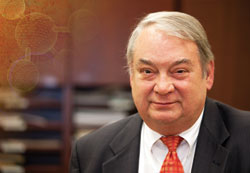 academic rank.
Danny Freedman writes, "In the years since, the invitations to lecture, to meet, to consult, to dedicate buildings continued. He's been to dozens of countries, some so many times he has lost count, traveling what he estimates to be in the ballpark of 1.5 million miles. (That would put him on par with the recently retired space shuttle Discovery, which traveled to space and back 39 times.) It's a long journey that once again has landed Dr. Murad in Washington, D.C., this time to stay." (photo at right: William Atkins)
The magazine reports, "Within the Department of Biochemistry and Molecular Biology, Dr. Murad will establish a new lab that will have in its cross hairs at least three big scientific questions, the kinds of questions which, successfully answered, may even be Nobel-worthy … again. Never mind that no one has ever garnered two Nobels in the area of medicine. As Dr. Murad says: 'Wouldn't it be nice to be first?' "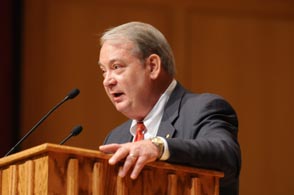 The lengthy profile piece is available online at the magazine's website.
Murad shared a Nobel Prize in 1998 for his research on nitric oxide, including identifying its role in nitroglycerin. He presented the golden anniversary address to his Class of 1958 at DePauw's Alumni Celebration on June 14, 2008 (pictured at left), in which he expressed his concern that the United States "may be starting to lose the race" in science and technology. A brief summary of his remarks and a link to an MP3 file of the complete speech can be found in this story.
On April 23, 1999, Murad delivered an Ubben Lecture at his alma mater. A summary and video clip are available here.
Back