Astronaut Joe Allen '59 Donates Out of This World Artifacts to DePauw
July 21, 2011
Also: Photo Gallery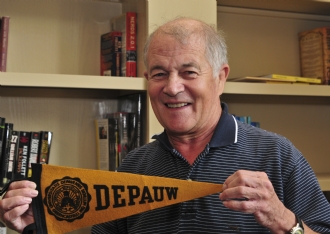 July 21, 2011, Greencastle, Ind. — "As Atlantis came home today on the final mission of the Shuttle Transportation System (STS) program, a number of artifacts have found their way back to DePauw University," writes Eric Bernsee in today's Banner-Graphic. "And when today's landing effectively puts an end to the shuttle program, a noted DePauw alum will still have a lifetime of memories to cherish. Retired astronaut Joseph P. Allen recently presented the University with a pair of small black-and-gold felt DePauw pennants that he carried aboard the Space Shuttle Discovery on its November 1984 mission."
Dr. Allen, a 1959 DePauw graduate, flew on two milestone space shuttle flights: the first operational mission on Columbia in 1982, and the first satellite salvage mission on Discovery in 1984. In addition to the pennants, Allen's donation to his alma mater included two NASA flight suit patches, a pair of NASA insignias, and four small American flags.
"All of the items flew with Allen aboard the Discovery flight, which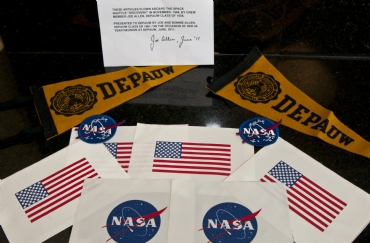 blasted off Nov. 8, 1984 and returned to the Kennedy Space Center in Florida 192 hours and 127 orbits later on Nov. 16, 1984," reports Bernsee. "He and wife Bonnie, a 1961 DePauw graduate, presented the space souvenirs on the occasion of her 50th class reunion during recent Alumni Weekend activities on campus."
"The artifacts were carried aboard STS-51A, which was flight No. 14 of the shuttle program, and flight No. 2 for Discovery," Allen tells the newspaper. "It was the only mission to accomplish a space salvage operation."
You'll find the full story at the Banner-Graphic's website.
Joseph P. "Joe" Allen IV addressed the 50th reunion of the Class of 1959 on June 13, 2009. He said that the education he and his classmates received

[Download Video: "Preparation for Great Adventures" - 2000kb] "allowed us to be reliable and successful leaders in a world always in transition and often in chaos. And we, the Class of '59, can assure you that a DePauw education endures for at least five decades and can take you on grand adventures -- spiritual, intellectual, and sometimes physical -- across vast distances. A DePauw education travels very well, indeed."
Hear Joe Allen's remarks in their entirety here:

[Download Audio: "Joseph P. Allen IV '59" - 11,035kb].
Joe Allen was inducted into the U.S. Astronaut Hall of Fame in 2005. Details can be found in this previous story. He also received the Old Gold Goblet from DePauw in 1985.
Dr. Allen's father, Joseph Percival "Perk" Allen III '30, was a member of DePauw's economics faculty from 1957 until his retirement in 1975.
Back