Sesquicentennial Celebration Preparations are Focus of TV Report
August 26, 1986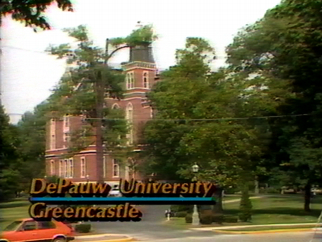 August 26, 1986, Greencastle, Ind. — "If you're about to celebrate your 150th birthday you'd probably have a lot of stories to tell, both funny and serious," WISH-TV news anchor Mike Ahern stated as he introduced a story this evening. "Well that certainly is the case at DePauw University." The Indianapolis CBS affiliate provided a look at DePauw's preparations for the celebration of the University's sesquicentennial.
The report by Leslie Olsen looks back at the college's founding in 1837 and includes interviews with University historian John Baughman '48, longtime professor of history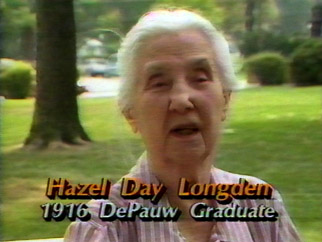 at DePauw, and Hazel Day Longden, who earned her undergraduate degree in 1916.
"DePauw University is a school rich with history; history that will be retold through the many special events planned during the coming year," Olsen notes.
See the piece here

[Download Video: "WISH Report on Sesquicentennial Preps" - 7818kb] or at YouTube.
Learn more about the founding of Indiana Asbury, now known as DePauw University, in this previous story.
Source: WISH (CBS)/Indianapolis
Back