Professor Anne Harris
July 26, 2011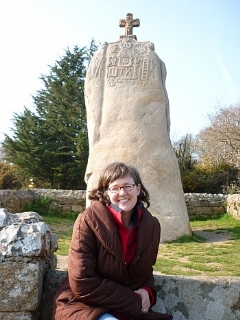 Anne F. Harris, associate professor of art history and director of the Women's Studies Program, received a student-faculty summer stipend to write curriculum for a new interdisciplinary course she will offer next year – The Ecology of Medieval Art.
Her motivation behind designing the course is to show students that Western culture, indeed human culture, is not self-contained. "A previous course, Monsters and Marvels: Imagining the Other in Medieval Art, was a first attempt to make Medieval art history less white and less European," Harris says. "As I looked at the courses I was teaching, I realized that they were consistently about a very self-enclosed Medieval Europe.

"Modern Western culture is influential but also deeply influenced by other cultures," she explains. "Looking at the Crusades, opened up the Middle Ages because it made me realize that not only did Christians go to Jerusalem, but there were Christians ruling in the Middle East from 1099 - 1291. There was a 200-year colonial period right in the middle of Medieval history.

"I began to see the enclave of Western Europe as incredibly permeated and permeable, and I started to view Medieval culture very differently," Harris says. "Many students come to Medieval classes wanting to talk about knights in shining armor in a very closed Medieval culture. So, a new course on the Ecology of Medieval Art will allow me to explore topics differently and also talk about contemporary and this time, environmental issues.

"In researching post-colonial theory, I came across the term 'the Other.' It's a productive and far-reaching term because it allows you to frame conversations about the West and the East, the self and the other, and, in the context of ecocriticism and the analysis of environmentalism, the human and the non-human," Harris explains. "Discussing how 'the Other' is constructed, has uncovered many great investigations for me. I don't think Medieval has all the answers, but I like the questions it asks."

Students in the class will have to answer tough questions about themselves in relation to the environment. "I'm looking at how Medieval culture constructed nature and constructed the idea of environment," Harris says. "There are lines between nature and culture and human and non-human. That's what the course will force students to look at – those lines between human and non-human and self and other."

Harris says, "In some instances, we will look at how Medieval culture reasserts that line between human and non-human. We'll be looking at the way that Genesis draws up boundaries between humanity and the "perfect" natural world of Eden. I like to think of the expulsion from Eden as the ultimate climate change. It's a model of climate change. There's a real line drawn between a benevolent nature and a malevolent nature."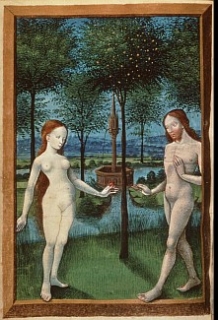 However, Harris points out that there are also instances in Medieval culture that blur the line. "Part of the course is to think about how to blur the line in some way so that students can see their identities as more integrated with what has been made 'the Other.' We'll examine how nature has been made 'Other.'

"Do I want us to hug trees? Recycle more?" Harris asks. "That's not the goal of this course. I want students to be more troubled by nature, and I'd like for them to experience the wonder of the blurring of those lines, which can be a little unsettling.

"We aren't going to try to solve the recycling and pollution problems; we're going to look at what, within the historical conditions of the Middle Ages, created the conditions for these problems. Which is – how did we get to this point where we are one thing and nature is another?," Harris asks. "We give nature agency in our language. We say things like, 'Nature is taking back the quarry,' but we don't give it agency in our politics. We can be more conscious of its agency on our behaviors."

Harris has incorporated a technological component to the new curriculum with assistance from Vishal Khandelwal '13. Khandelwal plans to attend graduate school to continue his studies in art history with a focus on architecture. He is also a student in the Information Technology Associates Program (ITAP). By using Google Earth and researching in the DePauw Archives, he has mapped old photographs onto new landscapes.

"Part of the course will address landscape and memory, and the idea of the agency of landscape being found in the memory that it can contain," Harris explains. "We've picked sites in Putnam County that used to be other things: a horse farm, cattle farm, saw mill, etc. It will be a little bit of a then-and-now comparison. We will also look at the DePauw Nature Park and explore what gets erased, and what gets constructed and why."

The course, The Ecology of Medieval Art, will focus on seven topics: including landscape, garden, minerals, animals, humans and magic/cosmology.
Harris says, "The big thing that motivates me is to look at those lines that we think are so certain and show that they are not. It's not an argument that trees have souls. It's an acknowledgment that it matters when trees are cut down or planted. Inanimate objects have a 'vibrant matter,' in the words of Jane Bennett, a professor of political science and author of Vibrant Matter: a Political Ecology of Things. That's the big philosophical takeaway from the course."
Back