Roy O. West Library is Dedicated in Old Gold Day Ceremony
October 20, 1956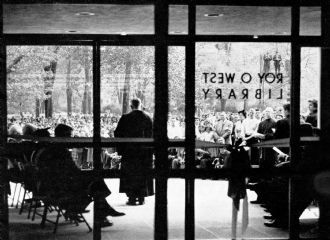 October 20, 1956, Greencastle, Ind. — One of the largest Old Gold Gold Day crowds ever gathered on the DePauw University campus today for the dedication and formal opening of the new Roy O. West Library. More than 1,000 students, alumni, parents and friends of the University witnessed the dedication of the library in ceremonies which took place in front of the modern edifice.
The four-story structure, named in honor of a DePauw trustee from 1914 to 1950 and board president from 1924 to 1950, was officially opened as Dr. West's daughter, Helen West Cannon '27, cut the symbolic ribbon.
Dr. West's health prevented him from making the trip from his Chicago home to attend the proceedings. (photo at right: Sylvia Cannon '56, Helen West Cannon '27 and DePauw President Russell J. Humbert cut the ribbon at the new library's front door)
Glenn Thompson, the current president of DePauw's Board of Trustees and Visitors, presided over today's ceremony. Following a choral prelude by the University Choir, the invocation was given by Bishop Richard C. Raines, Indianapolis area, the Methodist Church.
Located on the site of the former West College, the $1 million library provides sufficient space for the first time to house the university's library holdings and technical services. The new structure replaces the Carnegie Library which was constructed in 1908.
Today's opening represents the culmination of the first phase in the University's long-range development program.
Its collection includes 128,000 books which are displayed in an open shelf arrangement. There are also study carrels located on each floor, as well as comfortable furnishings for reading and quiet conversation. (at right: students gather in the Reference Room, in the northwest corner of the library's main floor)
The new stucture was made possible by the loyalty and generosity of thousands of DePauw alumni, parents and friends.
Back