Frank Duddy '39 is President of Westminster College
September 17, 1956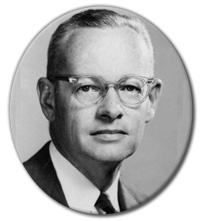 September 17, 1956, Greencastle, Ind. — Frank E. Duddy Jr., a 1939 graduate of DePauw University, assumed the presidency of Westminster College at Salt Lake City, Utah, effective today. Dr. Duddy comes to the post from the U.S. Naval Academy, where he has been on the faculty in the department of English, government and history for the past 10 years.
A Rector Scholar at DePauw, Duffy holds both master's and doctoral degrees from Harvard. He previously taught at Northwestern University and DePauw before joining the faculty of Stephens College in 1942.
Duddy joined the Navy in 1943 and served in the Pacific and Japan. In 1946 he became an officer-instructor at the Naval Academy and later that year was made a civilian faculty member. He has been an associate professor and served as chairman of the Third Class Committee. He holds the rank of lieutenant commander in the Naval Reserve.
Founded in 1875, Westminster College is an inter-denominational institution of 450 students, granting both bachelor of arts and bachelor of science degrees.
Back