Barbara Kingsolver '77 to be Awarded Literary Peace Prize
August 2, 2011
August 2, 2011, Greencastle, Ind. — "Author Barbara Kingsolver, a leader in the literature of social change, will be the first recipient of the Richard C. Holbrooke Distinguished Achievement Award," reports CBS News this afternoon on its website. "The award, previously known as the Dayton Literary Peace Prize's lifetime achievement award, has been renamed in honor of the late Ambassador U.N. Richard Holbrooke. First given in 2006, the prize honors authors whose works promote peace."
Kingsolver, a 1977 graduate of DePauw University, will receive the award on November 13. Her bestselling books include The Poisonwood Bible; The Bean Trees; Animal, Vegetable, Miracle: A Year of Food Life; and Animal Dreams.
The Lacuna, published in November 2009, received the UK's Orange Prize and the Library of Virginia's 13th Annual Library of Virginia Literary Award for fiction. Today's article notes that "her The Poisonwood Bible was on the Pulitzer Prize's short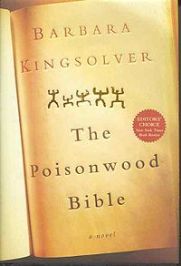 list."
"I'm very moved by both the legacy and the aspirations of this prize," Kingsolver says. "It will be an honor to stand in the heart of the country and celebrate peace."
Read more at CBS News.com.
The Associated Press is today distributing an interview with Kingsolver in which she is asked, among other things, about the impact of her work. "I create stories of a place and a world as I see it, and when readers enter that story, they bring their own emotional and intellectual experiences, and they make the impact," she says. "I'm not manipulating them; they're making choices for themselves. Literary writers don't do that at all. We can't; if we did that, we would pretty much be run out of the field on a rail. You can't make a living as an artist by trying to manipulate people."
You'll find the full piece here.
In April, Kingsolver received the LEAF Award for Lifetime Environmental Achievement in the Fine Arts from Duke University's Nicholas School of the Environment.
A zoology (biological sciences) major at DePauw,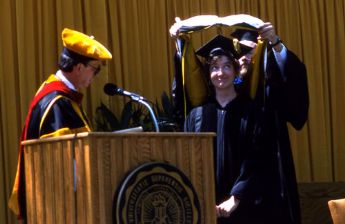 Barbara Kingsolver delivered the 1994 commencement address at DePauw, and was also awarded an honorary doctoral degree during the ceremony (seen in photo at left). "The best thing about DePauw is that it required me to take courses in poetry and mathematics and biology and history," Kingsolver told the audience. "I was not allowed to be narrow in my interests, and I was rewarded for trying really hard to see the fibers of logic and consequence that connect poetry and biology and history. I believe that's the most precious and useful kind of education that a person can ever have."
A summary of Kingsolver's speech -- including an MP3 of the complete address, which was titled "As Little Advice as Possible" -- can be found here.
Back