Bill Hayes '47 Stars On Broadway in Rodgers and Hammerstein's Me and Juliet
June 12, 1953
June 12, 1953, Greencastle, Ind. — Me and Juliet, a new Rodgers and Hammerstein musical starring 1947 DePauw University graduate Bill Hayes, has opened on Broadway at the Majestic Theater. With a cast that includes Isabel Bigley, Ray Walston and Joan McCracken, the show opened May 28. Richard Rodgers composed the music, with lyrics and book by Oscar Hammerstein II. The production is directed by George Abbott with choreography by Robert Alton. (Hayes and Bigley in a scene from Me and Juliet)
The musical tells of the joys and sorrows of actors trapped in a marathon success. It has been called "a double helping of theater" because it deals with a company of young actors and technicians as a community, involving a musical-within-a-musical, also identified as "Me and Juliet."
After graduating from DePauw, Bill Hayes enrolled in Northwestern University, where he earned a master's degree in music in 1949. He spent three years as a singer on television's Your Show of Shows and has appeared in Olsen and Johnson's Funzapoppin' and co-starred with Shirley Booth in a presentation of A Tree Grows in Brooklyn. Last year he made his first film, Stop, You're Killing Me. He has also issued musical recordings.
In Me and Juliet, Jeanie, a chorus girl, is played by Bigley, and Hayes portrays an assistant stage manager. The climax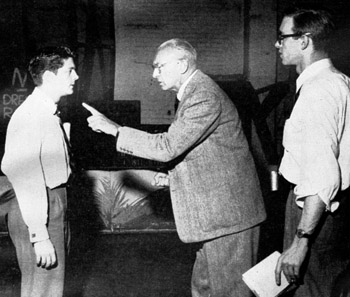 comes when the two characters marry. The villian, a rejected lover, is restrained from killing them. (at right: Hayes receives pointers from director George Abbott)
A direct descendent of America's nineteenth president, Rutherford B. Hayes, Bill Hayes notes, "So far as I can find out there was no theater blood on either side of my family. I consider myself lucky to have a father and mother who are different from most parents who were never in show business themselves. In my case, after we had talked it over carefully and Mom and Dad had given me the benefit of their advice, I finally convinced them a theatrical career was what I really wanted. From then on I've had their full encouragement."
Back