Beaty and Gaughan Represent DePauw at Collegiate Golf Championships
August 2, 2011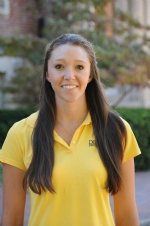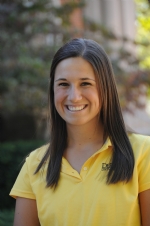 August 2, 2011, Dahlonega, Ga. — DePauw's Taylor Beaty (far left) and Kelly Gaughan (near left) are competing at the Hooters Women's Collegiate Team Championship and are 41st among the 55-team field after shooting an 11-over, 83 on the first day at Achasta, By Reynolds.
Today's scores were calculated by using alternating shots of each team's players. There was a tie at the top of the leaderboard as teams from Michigan State and Kentucky each were four under at 68.
While the tournament field consists primarily of student-athletes from NCAA Division I institutions, the DePauw duo is second among the five teams from Division III schools.
Beaty and Gaughan compete at last year's tournament and finished 44th overall and second among the Division III competition.
The tournament continues through Thursday.
Back