Greg Werner '89 Recounts Journey from DePauw, to NFL, to Career as Orthodontist
August 7, 2011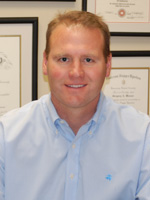 August 7, 2011, Greencastle, Ind. — "During the summer of 1990, Greg Werner was on his way," begins a story on the 1989 DePauw University graduate in Indiana's Greenfield Daily Reporter. "A tight end for the Philadelphia Eagles after spending his rookie season with the New York Jets, Werner caught a touchdown pass from Jim McMahon in a preseason game. Werner played in 10 games in 1989 with the Jets, starting four, and the 24-year-old was confident he had earned a spot on the regular season roster for the Eagles. It wasn't to be, however."
Werner, who starred for the Tigers as a collegian, tells the newspaper, "That touchdown was actually the very last play of my NFL career. I was woken up the next morning with a phone call and they told me I was released. I was the No. 2 tight end on the roster, but the No. 3 tight end was also a long snapper, so he got the spot. And they had Keith Byars, a fullback who could also play a little tight end. It was a kind of a bad deal, but that's the way it goes."
Brian Harmon writes, "Werner, who was undrafted after an All-American career at DePauw, knew that he wanted get back to his Hoosier roots when his NFL career ended." Werner worked for a pharmaceutical company and earned a degree from the Indiana University School of Dentistry. He owns a practice, Werner Orthodontics, and has offices in Greenfield, McCordsville and Indianapolis.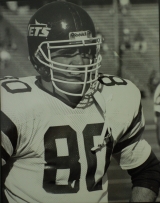 The newspaper notes, "Ken O'Brien was the Jets' quarterback during Werner's rookie season, and their teammates included Al Toon and Freeman McNiel. Werner caught eight passes in 1989 for 115 yards, but didn't score."
Dr. Werner recalls, "I was in awe of the city of New York, in awe of the talented players and names I was familiar with growing up." He adds, "Football teaches you how to work hard and how to be resilient. And those are two key characteristics that helped me get through school with the success that I did and, ultimately, led me to become an orthodontist, where I'm very happy."
You'll find the complete article at the Reporter's website.

Back