Prof. Clark Norton Appointed Assistant Dean
April 20, 1961
April 20, 1961, Greencastle, Ind. — Clark F. Norton, a faculty member in DePauw University's political science department since 1948, has been appointed to the newly-created position of assistant academic dean of the University. Dr. Norton will assume his new duties on July 1 and will work primarily with curriculum development, graduate and general studies, and summer educational initiatives. He will continue to teach one class.
Presently director of DePauw's graduate studies program, the 49-year-old native of Ludington, Michigan, has previously taught at Montana State University and the University of Michigan, from which he earned the B.A., M.A. and Ph.D. degrees. Norton has also been a visiting professor at Central Michigan College, West Virginia University and Indiana University.
Combining political education with public service, Dr. Norton served two years on the East Ann Arbor city council while teaching at Michigan, and is currently serving his second four-year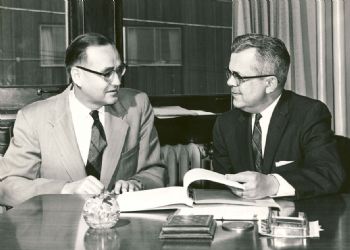 term on Greencastle's city council. (at right: Norton with Robert H. Farber, academic dean of the University)
A frequent contributor to scholarly journals -- including the Michigan Law Review, American Yearbook and National Municipal Review -- Norton is a past president of the DePauw chapter of the American Association of University Professors. In recognition of his activities in political science, Norton was the recipient of a $4,200 grant in 1956 to study municipal loyalty and security measures in 115 Midwestern cities.

Back