700 Jam Meharry Hall for Rededication of Restored East College
October 17, 1981
Also:

[Download Video: "Conclusion of Rededication Program" - 7711kb]
October 17, 1981, Greencastle, Ind. — "East College is more than just another building," said DePauw University President Richard F. Rosser on this Old Gold Day as DePauw rededicated its newly-restored East College. First dedicated on October 20, 1877, the historic building was renewed with a five-and-one-half year fundraising campaign that brought in $2.2 million. The work took 18 months to complete.
"Its restoration is symbolic of the essence of the University," Dr. Rosser told the 700 alumni, students, faculty and friends of DePauw who jammed into Meharry Hall for today's ceremonies. "Just as we gave East College its rebirth in 1981, DePauw is reborn each year as one class graduates and another arrives."
"It has been said that we shape our buildings and that our buildings shape our lives," notes J. Stanford Smith '36, chair of DePauw's Board of Trustees. "Events within these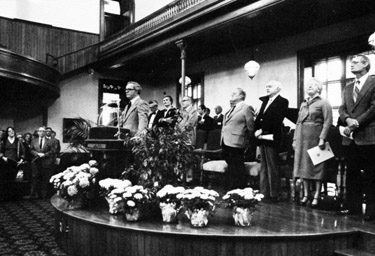 halls have shaped the lives of countless men and women who have provided and are providing leadership in all aspects of the life of this nation, providing leadership all out of proportion of their numbers. This restoration is a tribute to the president and the faculty and the staff and the students who have come through the halls and gone from it to a life of service. They have made this University a national resource."
Ardath Yates Burkhart, a 1927 DePauw graduate and trustee, led the fund drive for the restoration, which was supported by more than 2,000 alumi and friends. She recalled board discussions in the late 1960s about potentially razing East College and building a performing arts center in its place.
"Well they might as well have stabbed me in the back because I reacted like a stuck pig to the silly notion," she said today. "So from then on for about, I would say, at least four years, we fought that battle. Finally one day in a trustees meeting in a moment of exasperation" she offered another option: to restore the grand old building. "How would the incoming students ever be tied to the glorious history without East College?," she asked fellow board members. "How would they ever have a sense of purpose and their obligation to what pulled the traditions of this school without East College?" Further, she promised to raise the money needed to make the project reality.
"Basically speaking, this building was restored with almost nickels and dimes," Burkhart stated. "So every one of you sitting here, I'm sure, has a stake in this building along with thousands of others."
Back