Prof. Bob Steele '69 Cited in Real Simple Magazine
August 19, 2011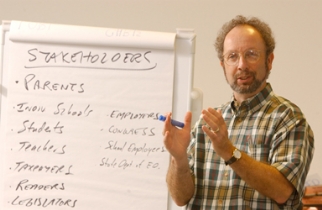 August 19, 2011, Greencastle, Ind. — "If my child doesn't go to college, must I give her the money I saved for it?," asks Real Simple magazine in its September 2011 issue. Ingela Ratledge writes, "There are a few things to think about if you're in this situation. First, if you make it clear to your child that the savings were intended for academic use only, then you can ethically keep the money -- although ideally you would have previously disclosed the purpose of the funds to her, says Robert Steele, the director of the Janet Prindle Institute for Ethics at DePauw University in Greencastle, Indiana. But bear in mind that if your plan for the money was to give your child a good start in life, it could still help her achieve that."

Read more in the magazine, which is now appearing on newsstands.
A 1969 graduate of DePauw, Bob Steele is Phyllis W. Nicholas Director of the University's Janet Prindle Institute for Ethics and Distinguished Professor of Journalism Ethics. One of America's leading experts on media ethics, he was quoted yesterday by USA Today and was cited in the New York Times "Public Editor" column on July 31.
Source: Real Simple
Back