Prof. Wallace Graves, Who Became President of U of Evansville, Dies at Age 89
August 18, 2011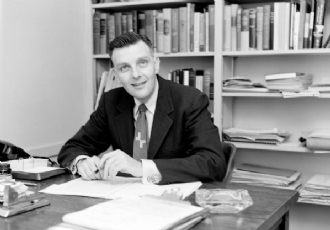 August 18, 2011, Greencastle, Ind. — Wallace B. Graves, a professor of political science at DePauw University from 1950 to 1958 who later became president of the University of Evansville, passed away last night. He was 89 years old. (at left: Professor Graves in his DePauw office in 1952)
A native of Fort Worth, Texas, Graves earned his bachelor's degree in political science with a minor in history from the University of Oklahoma. He received a master's degree in the same subjects from Texas Christian University, and in 1953 he earned a Ph.D. from the University of Texas, focused in international relations and public administration.
A story in the May 2, 1958 edition of The DePauw announced that Dr. Graves was leaving the University. It called Graves "one of DePauw's most popular professors" and "one of the best liked and most respected" members of the faculty, noting that he earned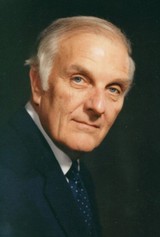 the Brown Derby award for top professor in 1954.
Dr. Graves, who also served on the faculty of TCU, Butler University and the University of Texas, became president of the University of Evansville in 1967, a post he held for 20 years. He "was perhaps the most influential voice in the University of Evansville's transformation from a small community college to an internationally recognized university," notes an announcement today. "His 22-year tenure at UE included 20 years as president, with two additional years as chancellor."
Dr. Graves served as the chairman of the North American Council of the International Association of University Presidents, the Indiana Conference of Higher Education, the Independent Colleges and Universities of Indiana, and the Carl Duisberg Society.
Read more at the website of the Evansville Courier & Press.
Back