Play by Prof. Chris White Featured in New Theatre Textbook
March 11, 2011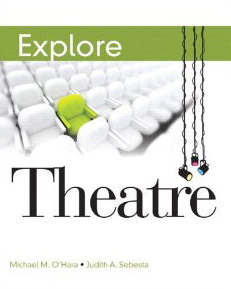 March 11, 2011, Greencastle, Ind. — The work of Chris White, associate professor of English at DePauw University, is featured in a new digital textbook, Explore Theatre. The book uses White's Two Character Play as its centerpiece.
Issued by Allyn & Bacon, the textbook is co-authored by Ball State University's Michael O'Hara and Judith Sebasta of Lamar University. White's play was commissioned specifically for use in the project. The process of producing the play (auditions, rehearsal, and production at Ball State's Strother Theatre) were filmed and edited for inclusion. A short film adaptation of the play called Finale, as well as filmed interviews with White are also included, as is her play in text form.
"This video rich, online resource facilitates multiple strategies of teaching and learning that can significantly
enhance Introductory Theatre courses," notes the publisher. "Explore Theatre fosters greater understanding of the relationships between text, actor, and audience and builds bridges to live theatre and its history."
Order the digital book at Amazon.com.
Professor White teaches playwriting and screenwriting at DePauw. Her play Rhythms brought actress Rae Dawn Chong to DePauw and Indianapolis for performances in 2007. Learn more in this story.
Two Character Play was premiered in 2005. "It's an extraordinary theatrical play," Michael O'Hara, who directed the production, stated at the time. "It has more than one ending, and the audience will play an important role in the performance... This is already a hot ticket to have. People are coming from all over the country to see this show. It's a chance for students to see why people still care about theater."
Back