Sidewalk Superplant
August 24, 2011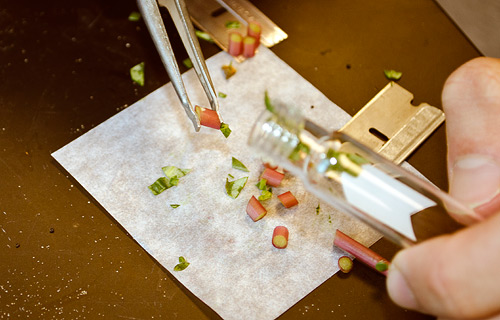 Purslane is absolutely packed with antioxidants – helpful agents that prevent molecular trouble-makers called free radicals from damaging living cells. Walk through a supermarket and plenty of labels will advertise that the antioxidants within fight aging or prevent cancer.
But you probably won't find purslane.
Abroad, you'll find purslane mixed with salads or in stews, and even used medicinally; here, it's just a weed.
"The United States is one of the few places that doesn't make use of purslane," says Bryan A. Hanson, professor of chemistry and biochemistry. "It's a weed to us. Weeds are something you dig out of your garden."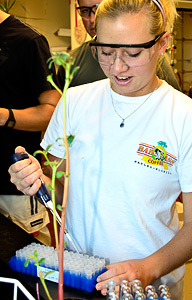 All those antioxidants aren't just sitting around, waiting to be eaten by humans, however. They make purslane an especially hearty plant, able to survive in places where others would wilt away. So, while Hanson's three student research assistants spent their summer cutting up and testing a more than a thousand purslane plants, they weren't doing it to find a good recipe.
"We looked at how purslane is affected by stressful environments by testing it in salty and drought conditions," says Paulina "Polly" J. Haight '13 a biochemistry major from Wooster, Ohio, who worked on the project. "We're hoping that it will relate to how plants in general might react to climate change."
Haight and two other Science Research Fellows – Matthew A. Kukurugya '13, a biochemistry and history double major from Crown Point, Ind., and Vincent S. Guzzetta '14, a biochemistry major from Rockton, Ill. – spent the summer cultivating and testing three different types of purslane: one domesticated variety, and two collected by Hanson from sidewalk cracks in South Carolina and Wisconsin.
"It's a very, very resilient plant," Guzzetta says. "We find it in cracks in the sidewalk; we find it in deserts. It grows everywhere. Because we're looking at climate change, we're looking at hotter environments and what's surviving in them."
In total, they used a staggering 1,080 plants – each one grown in the DePauw Nature Park's Manning Environmental Field Station – to find out how purslane reacted when pushed to its limits in salty or dry soil. For example, salt stress was shown to increase the plant's production of betalain, an antioxidant and pigment that gives plants red stems, leaves or flowers. To the best of Hanson's knowledge, theirs is the first study to make this connection.
Hanson began the study three years ago with Associate Professor of Biology Dana A. Dudle, who adds an ecological perspective to his interest in the internal chemistry of purslane. The interdisciplinary approach to the study, the students say, helped them connect chemical changes inside the plant to changes in its appearance and health.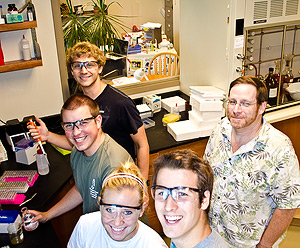 "Sometimes in a chemistry class, you wonder, how does this apply to something real?" Haight says. "This project does a good job of helping us see that."
"This research is really rewarding because, at the end of the day, you produce results you can see," Kukurugya adds. "You're not only learning new techniques, but also learning the chemical portrait of this plant."
Next summer, new students will join Hanson and Dudle to pick up where Guzzetta, Haight and Kukurugya left off. Even though their work with purslane has come to an end, one of them still sees the plant in his future.
"I'm bringing seeds home," Guzzetta says. "I told my parents we're going to start eating purslane."
Back