Rev. Mary Whetstone '82 Discusses Her Work as a Chaplain
August 25, 2011
August 25, 2011, Greencastle, Ind. — The Reverend Mary S. Whetstone, chaplain of Riverside Methodist Hospital in Columbus, Ohio, and 1982 graduate of DePauw University, discusses "the most sacred encounter" in the latest issue of The Visionary, published by the Central Ohio Lions Eye Bank. The article describes Whetstone's work for more than 20 years as a Designated Requestor, noting that she "is specially trained and designated by her hospital to be responsible for discussing eye donation with potential donor families."
Cristina DeLaSerda writes, "Mary knows in a few moments she will provide this family with the opportunity to donate their loved one's eyes. But, Mary states, before initiating the conversation, 'I always remind myself to pay attention to the family, never feel pressure to rush into the approach, and leave all preconceived notions of the discussion's outcome out of the equation.' The key for her is 'to present the family with an opportunity, making sure they know that not all families may get that same option.' Her mantra, it seems, is 'There is never a right or wrong answer; whatever the decision that's made was the right decision for that family.' "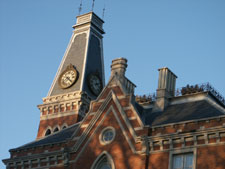 After graduating from DePauw, where she majored in philosophy and physical education, Whetstone earned her Master of Divinity degree from Duke University.
She states, "From the time of death all the way to the actual transplant itself...it is truly a journey. I am honored to have the privilege to be a part of the process."
The article is summarized in the Times of Carmi, Illinois, which is Rev. Whetstone's hometown. Read more at the newspaper's website.
Back