"There Can Only Be One Monon Bell," Columnist Argues
August 24, 2011
Also:

[Download Video: "1993 Version - Ballad of the Monon Bell" - 10,522kb];

[Download Audio: "Ballad of the Monon Bell - Stereo" - 2514kb]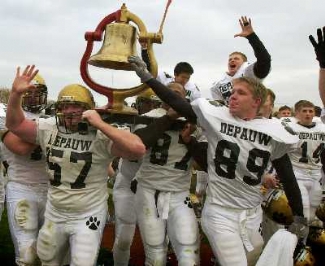 August 24, 2011, Greencastle, Ind. — The Monon Bell "is simple. It is understated. It is the symbol of the great rivalry between Wabash and DePauw," notes Eric Ingles, sports editor of the Crawfordsville Journal Review. "Not every rivalry in college football is so lucky, " he writes in his column today.
"In the world of college football trophies, there are two distinct categories -- trophies that are simple and classy and trophies that look like they were cobbled together by a focus group and a market research team," Ingles observes. "If you look at the dates the trophy came into use, you can see why there's a difference."
He offers, "Iowa and Iowa State fans were outraged this week when the 'Cy-Hawk' Trophy was replaced with something everyone was quick to call hideous,"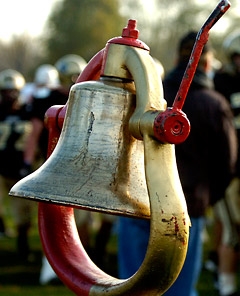 Ingles writes. "I've seen pictures of the thing. Hideous is an understatement. It's a silver statue of a man on one knee holding an ear of corn while a woman and two kids look on. Get it? They grow corn in Iowa. On Tuesday everyone came to their senses and the new trophy was ditched."
The column also takes the Michigan State-Penn State Land Grant Trophy to task, and notes, "Boston College and Clemson have a trophy, commemorating the rivalry that dates back to when Boston College joined the ACC six years ago."
Ingles declares, "These schools should just face the facts — if you don't have a trophy with a backstory that is at least 70 years old, it's best to just play the game without it. There can only be one Monon Bell."
You'll find the complete essay -- "Not all trophies created equal" -- at the newspaper's website.
DePauw University and Wabash College will meet for the 118th time on a football field on Saturday, November 12, at DePauw's Blackstock Stadium. The contest will again be televised nationally on HDNet.
The first DePauw-Wabash game took place in 1890. The Monon Bell became the victor's prize in 1932.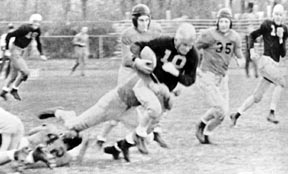 Wabash has a 55-53-9 lead in the all-time series; while DePauw has the better record since the Monon Bell was introduced, 37-36-6. (at left: photo from the 1938 Monon Bell Classic)
Access DePauw's Monon Bell Web page here.
A complete roster of "Monon Memories" -- video highlights of past classics -- can be found here.
Professionally replicated DVDs have been produced of 13 complete Monon Bell games -- the 2000 through 2010 games, as well as the 1977 and 1994 Monon Bell Classics. Learn more here.
Back