Newspaper Spotlights Student Community Service Projects
August 27, 2011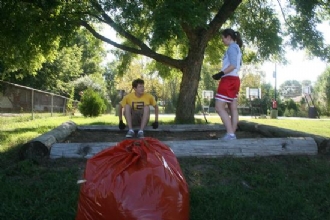 August 27, 2011, Greencastle, Ind. — "DePauw University students Zach Vanes of Sigma Alpha Epsilon and Molly McGonigal of Alpha Phi pull weeds from around the sandbox at the Robert G. Bottoms Community Center for the Family, Youth and Community Development Program," notes a caption to a photo published in today's Banner-Graphic (and seen at left). "The students, along with other DePauw students and community members, completed several service projects around Greencastle during the first of two days of the Day of Caring event, sponsored by Putnam County United Way."
The text continues, "Other projects included painting and pulling weeds at Johnson Nichols Health Clinic, clearing up brush and wildlife at Camp Friend and helping out at Hope Haven Horse Farm. Other projects on Saturday will include cleaning up the Putnam County Airport and cleaning up the Greencastle downtown area."

Access it at the newspaper's website.
By their senior year, 87% of DePauw University students have participated in community service or volunteer work, according to the 2009 National Survey of Student Engagement. Learn more in this previous story.
Back