Yo-Yo Ma's DePauw Concert is a Quick Sellout
August 29, 2011
Also: DePauw Discourse 2011 Schedule; Presenter Biographies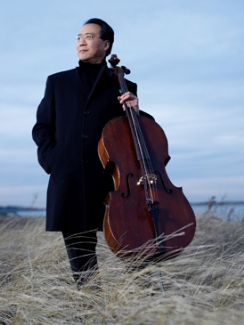 August 29, 2011, Greencastle, Ind. — Tickets for Grammy Award-winning cellist Yo-Yo Ma's concert at DePauw University on Friday, September 30, are sold out. Individual seats for the performance became available today -- a limited number were set aside for parents, alumni and the general public; those sold out within 7 minutes. DePauw students, faculty and staff also availed themselves of the opportunity to see the acclaimed musician. By 1:40 p.m., all tickets for the program were spoken for.
Yo-Yo Ma is coming to DePauw to headline "DePauw Discourse 2011: Empowering Society Through the Arts." Registration for the three-day Discourse programming, which began July 15, is now closed.
He will perform at 6 p.m. September 30 accompanied by 28 members of the Chicago Civic Orchestra.
Ma will also deliver a lecture, "Reflections on a Life in Music: An Evening with Yo-Yo Ma," at DePauw on Thursday, September 29, at 8 p.m. in Kresge Auditorium. [UPDATE 9/2: Tickets will be distributed on campus September 5 - 8 for this event - details here.] A television feed of the lecture will also be presented in Moore Theatre in the event
of an overflow crowd. (at right: students lined up for Yo-Yo Ma tickets today)
"The excitement has been palpable since we first announced Yo-Yo Ma's visit in January," says Steve Setchell '96, director of corporate and foundation relations at DePauw and coordinator of DePauw Discourse. "We knew the response would be strong and were careful to articulate to our audiences 20 days ago how ticket distribution would work and that -- despite the 1,400-seat capacity of our largest music venue, Kresge Auditorium -- this was bound to be a must-see event. It was clear from the lines on campus and the quick sell-out online that people got the message and were determined to be part of an evening that DePauw constituents will be talking about for years to come."
The ticket distribution plan for Yo-Yo Ma's appearance was also previewed in the Indianapolis Star and Banner-Graphic.
"Yo-Yo Ma will also be working with our students while he's on our campus, in what will be the opportunity of a lifetime for them and a distinctive moment in the life of America's sixth-oldest school of music," notes Mark McCoy, dean of the DePauw University School of Music. "The knowledge and inspiration he will bring to our students and the excitement he is clearly drawing to DePauw are impossible to measure and thrilling to see."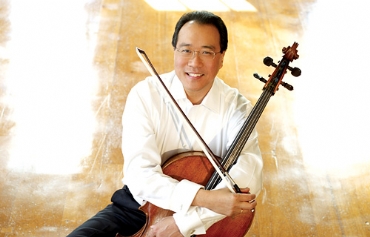 DePauw Discourse will feature a number of distinguished alumni and guests leading performances, exhibits and conversations that celebrate the arts and explore the arts' vital community role in sparking creativity, innovation, self-expression and dialogue. Access a complete schedule of events by clicking here.
Read more about Yo-Yo Ma's DePauw visit in this previous story.
For additional information about DePauw Discourse 2011, please send e-mail to discourse@depauw.edu or call (800) 446-5298.
Back