Sophomore's Efforts to Help Disabled Woman Regain Memory Featured in TV Report
April 22, 1987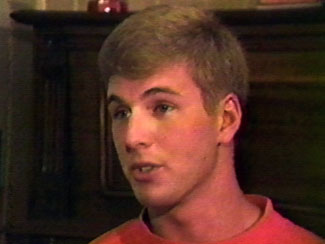 April 22, 1987, Greencastle, Ind. — "Guitar lessons are helping a young Greencastle woman regain the memory she lost in a tragic accident in 1972," reported Terre Haute's WTWO-TV during its 6 p.m. newscast this evening. "J. Nichols, a DePauw University student, has been giving (Barbara Daugherty) guitar lessons once a week for the last eight months."
"Playing the guitar is important to me and music is important, and I thought if I ever lost the ability to play guitar and enjoy music, I'd want somebodyo teach me," Nichols, who is a DePauw sophomore, tells the station.
Daugherty was 1 9-year-old guitar-playing Indiana University students when an auto accident caused her to lose her memory.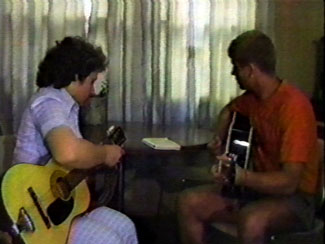 With Nichols' help, "memories are coming back to the 34-year-old woman, thanks to her love of music," notes the report. "It's been a long, slow process for Barbara to remember the few bits of information she has regained. But no one knows for sure how much the guitar playing will trigger her memory. But every page of music may open a new chapter to her life."
See the report on YouTube; it is embedded below.
Back