Dan Hasler '80 Named Indiana's Commerce Secretary; Mitch Roob '83 Joins WoundVision as CEO
September 1, 2011
September 1, 2011, Greencastle, Ind. — Daniel J. Hasler, a 1980 graduate of DePauw University, was today named the new Indiana Secretary of Commerce, effective September 16. He will replace Mitch Roob, a 1983 DePauw graduate, who is leaving the post to accept a position in the private sector. (photos - at left, Hasler; below right: Roob)
Roob has served as a member of Indiana Governor Mitch Daniels' cabinet since Daniels took office in 2005 and was previously secretary of the Indiana Family and Social Services Administration. He is becoming president and CEO of WoundVision, a healthcare technology company.
"I can't say enough about the patriotism of this enormously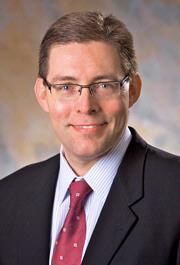 talented man who has given seven years of what would have been his prime earnings years to building a better Indiana," Daniels said of Roob. "He's handled two of the biggest assignments we have given to anyone with terrific skill and selflessness. People like that are hard to find."
As the head of the Indiana Economic Development Corporation, Roob and the governor "finalized 505 business projects that are expected to bring more than 55,000 new jobs and over $8.1 billion in investment to Indiana over the next several years. At FSSA, he led a major transformation of the organization," notes today's announcement. "Before joining state government, Roob was president of the Marion County Health and Hospital Corporation and was chief operating officer of the Indianapolis Water Company."
Hasler retired from Eli Lilly and Company in 2010 after a long career with the pharmaceutical company. "Since February, Hasler has been working on behalf of IEDC to bring life sciences business opportunities to the state following a 31-year career with Eli Lilly. Hasler served in a number of leadership positions at Eli Lilly, most recently as vice president for global marketing, responsible for the commercial strategy and market performance of Lilly's pharmaceutical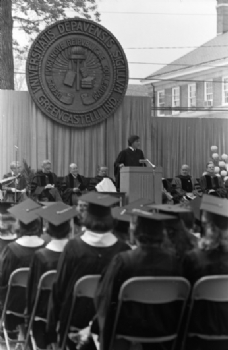 portfolio. He also was the chief marketing officer for Eli Lilly USA. Prior to that, he led the commercial operations of Eli Lilly's largest European group for three years and was general manager and president of Eli Lilly of Brazil LTD. In 2010, Hasler was the recipient of the Lilly Lifetime Achievement Award."
After graduating from DePauw, Hasler earned an M.B.A. from Duke University's Fuqua School of Business.
Read more at the website of the Indianapolis Star.
Hasler received DePauw's Walker Cup and addressed his classmates at the 1980 commencement ceremony (pictured at left). "As graduates of DePauw we must see to it that the good continues to be consistently and constantly made better." he stated. "Very few of us will ever have the privilege of serving DePauw as a member of the Board of Trustees or as a member of the Board of Visitors, but all of us can serve DePauw in our hearts and forever through our actions." (

[Download Audio: "Complete Speech by Daniel J. Hasler '80" - 2622kb] ; video)
Back