Yo-Yo Ma, Here September 29-30, is 2011 Kennedy Center Honoree
September 7, 2011
Also: DePauw Discourse 2011 Schedule; Presenter Biographies
September 7, 2011, Greencastle, Ind. —Yo-Yo Ma, the acclaimed cellist who will appear at DePauw University later this month, is one of five individuals selected to receive 2011 Kennedy Center Honors. Announced today, this year's other honorees are singer/songwriter Neil Diamond, jazz musician Sonny Rollins, actress Meryl Streep, and Broadway singer Barbara Cook.
The five will be recognized "for their contributions to American culture through the arts," notes an Associated Press report. "President Barack Obama will salute the artists and others will perform in their honor at a ceremony at the Kennedy Center. CBS will broadcast the show Dec. 27."
AP writes, "Ma is one of the best-known classical musicians. He played for President John F. Kennedy and President Dwight D. Eisenhower at age 7 at a fundraiser for a national cultural center that would later become the Kennedy Center. The 55-year-old said he feels too young to be receiving such an award for lifetime achievements."
"The whole nation gets together to celebrate essentially the accomplishments of the human spirit," Ma told the news organization. "It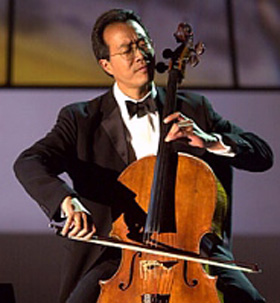 really is to celebrate, in a sense, what people who are passionate are capable of doing."
George Stevens Jr., who produces the Kennedy Honors show, states, "You can look at the people chosen this year, and this is the 34th year and say arguably they are the best at what they do."
You'll find the complete story here or another article at the website of the Washington Post.
Yo-Yo Ma will come to DePauw to headline "DePauw Discourse 2011: Empowering Society Through the Arts." On Thursday, September 29, he will present a lecture, "Reflections on a Life in Music: An Evening with Yo-Yo Ma" (ticket information here). The following night he will perform accompanied by 28 members of the Chicago Civic Orchestra (tickets for the concert are no longer available).
Read more about Yo-Yo Ma's DePauw visit in this previous story.
For additional information about DePauw Discourse 2011, please send e-mail to discourse@depauw.edu or call (800) 446-5298.
Back