Carrie Newcomer to Present Free September 24 Concert at Nature Park
September 7, 2011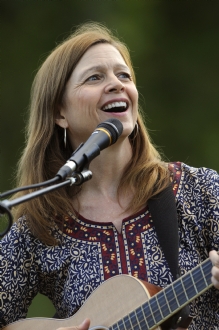 September 7, 2011, Greencastle, Ind. — "Rapturously tuneful, Newcomer's material asks all the right questions and refuses to settle for easy answers," opines Rolling Stone of Carrie Newcomer. On Saturday, September 24, the acclaimed singer-songwriter will return to DePauw University for a free, all-ages concert. Presented by DePauw's Performing Arts Series, the show will take place at 6 p.m. in the amphitheatre of the DePauw Nature Park. (at right: Newcomer performing at the Nature Park in August 2009; photo gallery)
Attendees are encouraged to bring lawn chairs and blankets, as the seats in the amphitheatre are limited.
That same day, from 1 to 3 p.m. in the Nature Park's Welcome Center, Newcomer will offer a songwriting workshop. The session is also presented free of charge, but space is limited and registration is required by contacting Ron Dye at rdye@depauw.edu or by phone at (765) 658-4689.
Concert spectators should also be aware that the performance location is
approximately five minutes, by foot, from the Nature Park's main parking lot (off the 1400 West Walnut street entrance). A shuttle car will be available for individuals unable to walk the distance from the parking lot to the amphitheatre. In the event of rain, the performance will be held in Moore Theatre, located within DePauw's Green Center for the Performing Arts.
Praised by Billboard as a "soaring songstress," Carrie Newcomer has released 13 compact discs as a solo artist, and two albums as a member of the group Stone Soup. Her latest release, Everything is Everywhere, is a collaboration with sarod players Amaan and Ayaan Ali Khan and mixes Indian classical and western country music.
Newcomer has performed across the nation and across Europe. In the fall of 2009 she was invited by the American Embassy in India to serve as a cultural ambassador.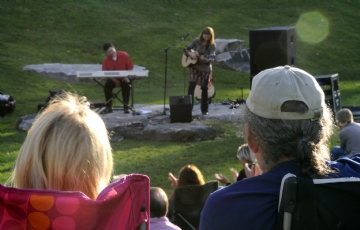 As a result, Newcomer toured that country, performing and providing to community service organizations. The experience led to the creation of her latest album.
"Ayaan had attended one of Carrie's concerts in Delhi," Amaan Ali Khan tells the Times of India. "He met her also and she gave him some of her CDs. We heard it and it was really nice. Then all of us met and everything fell in place and before we knew it, we were recording an album together. Initially, it was just like a trial album. We did not know where we are headed with it. But it was nice because while collaborating with Carrie, we knew exactly what we wanted out of the album. We knew where to start and where to end. It has come out very well. It's a very spiritual, very calm and peaceful album," he says.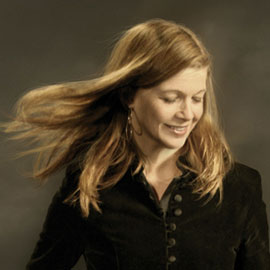 Newcomer says that "music can be a language deeper than words. I love our differences. Cultures are rich, and what makes each culture unique should be celebrated, but I was also powerfully moved by what we share as a human family."
Newcomer's The Geography of Light was named by Folkwax as 2008's "Album of the Year" and the magazine named Newcomer its "Artist of the Year."
According to Roseanne Cash, "Carrie is a touchstone of authenticity in an image-driven, media-defined musical world. She is a beautiful singer and songwriter, and deeply refreshing."
"Carrie Newcomer is much more than a musician," declares bestselling author and 1977 DePauw University graduate Barbara Kingsolver. "She's a poet, storyteller, snake charmer, good neighbor, friend and lover, minister of the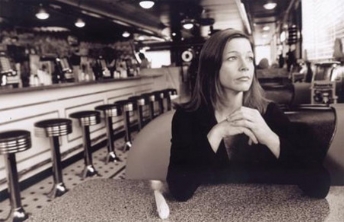 wide-eyed gospel of hope and grace."
Newcomer is no stranger to DePauw, having performed for delighted audiences on several occasions in the past, including an August 2009 concert at the Nature Park.
Attendees are encouraged to make use of the Nature Park earlier in the day to hike or picnic.
For more information about the DePauw Nature Park, click here.
Back